After a dominant display in morning foursomes Team Europe maintained their advantage in afternoon fourballs at the PING Junior Solheim Cup to hold a commanding lead heading into the final day.
Leading by 5.5 to 0.5 points over USA at La Zagaleta, Spain, an entertaining afternoon saw both sides win three matches each to leave the home side needing just four points to retain the trophy on Tuesday.
Despite an emphatic 8&6 victory in morning foursomes, the Spanish duo of Andrea Revuelta and Rocío Toledo were unable to reach the same heights as they were defeated 3&2 by Elizabeth Rudisill and Kathryn Ha.
Also paired together again were Francesca Fiorellini (Italy) and Denisa Vodičková (Czechia), who continued their excellent record together by dispatching Anna Song and Megan Meng 4&3.
"We did a great job," Fiorellini said, who also won a point alongside Vodičková at the 2021 PING Junior Solheim Cup. "We played last time together two years ago so we know each other really well."
While her Czech partner said: "Our energy on the course matches very well so I think we work really great."
In match three, USA clawed a point back as Gianna Clemente and Yana Wilson defeated Yana Beeli & Anna Cañado 1UP on the final hole.
Having both clinched a point in morning foursomes, Josefin Widal (Sweden) and Cloe Amion (Spain) earned another point for their side winning 2&1 against Asterick Talley and Leigh Chien.
Coined the "dream team", Savannah De Bock (Belgium) and Helen Briem (Germany) put on the performance of the afternoon carding eight birdies to beat Irene Kim & Ryleigh Knaub 5&4.
"It was amazing," De Bock said. "The morning with Cloe already great, we played well, but this afternoon with Helen was also really good. We have such a strong team. Whenever I was doing a little less good she was making birdies!
"It's so great to be here, the team is so great. The course is amazing and I can't wait for tomorrow."
Match six then saw Anna Davis annd Jasmine Koo come from behind to defeat the Swedish pairing of Meja Örtengren and Nora Sundberg 3&2 to leave the scores at 8.5 – 3.5 heading into the final day.
Sunday singles will take place on Tuesday morning with the following pairings (EU vs USA):
8:15: Andrea Revuelta vs Jasmine Koo
8:25: Francesca Fiorellini vs Anna Davis
8:35: Nora Sundberg vs Gianna Clemente
8:45: Yana Beeli vs Yana Wilson
8:55: Anna Cañado vs Kathryn Ha
9:05: Cloe Amion vs Elizabeth Rudisill
9:15: Josefin Widal vs Leigh Chien
9:25: Helen Briem vs Ryleigh Knaub
9:35: Denisa Vodičková vs Anna Song
9:45: Rocio Toledo vs Asterick Talley
9:55: Savannah De Bock vs Megan Meng
10:05: Meja Örtengren vs Irene Kim
Live scoring can be followed here.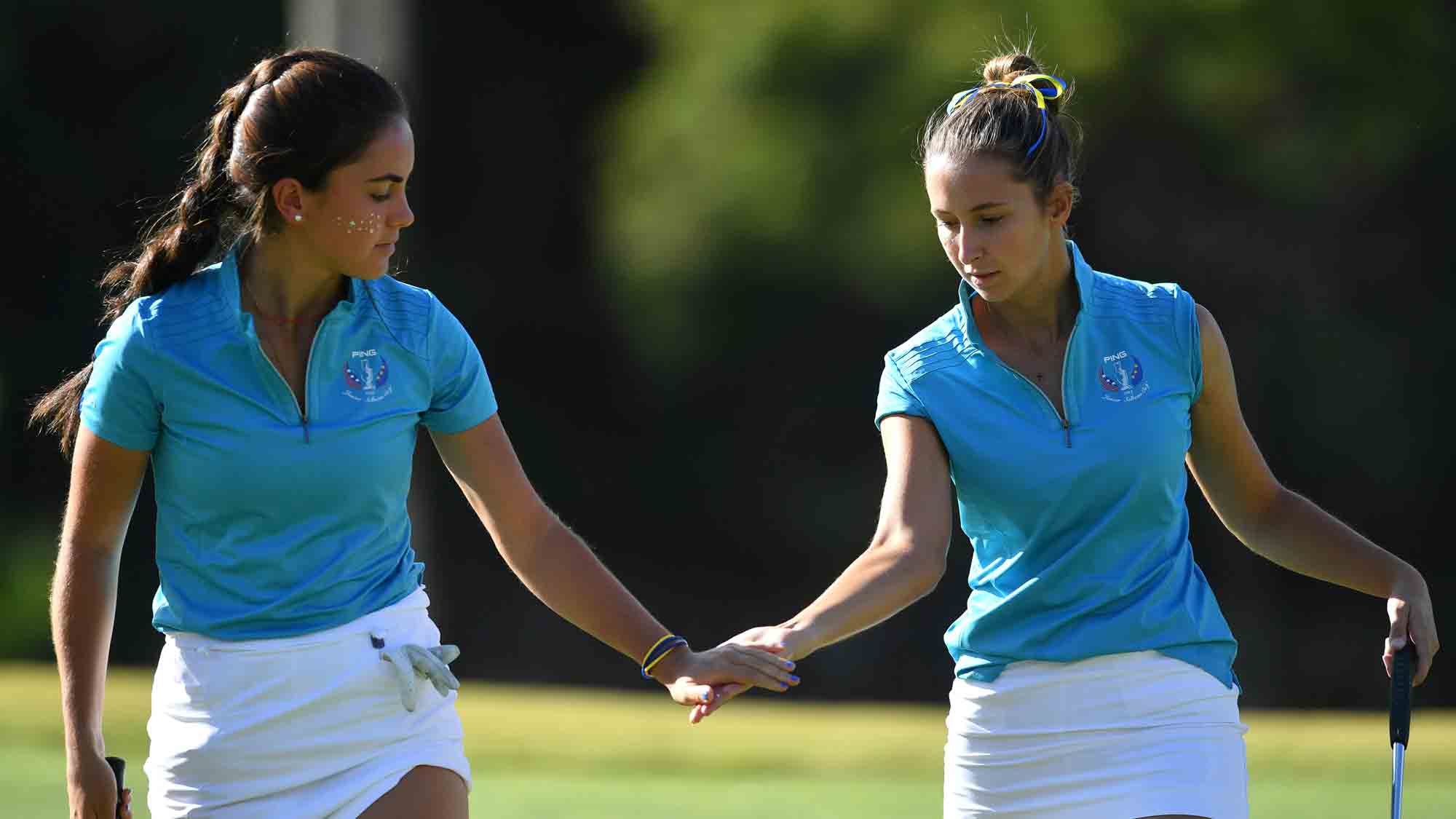 TEAM EUROPE DOMINATE MONDAY MORNING FOURSOMES AT PING JUNIOR SOLHEIM CUP
The 2023 PING Junior Solheim Cup is now under way at La Zagaleta with Team Europe dominating the Monday morning foursomes to take an early commanding lead in Spain.
With six foursomes matches contested on day one, Team Europe have walked away with 5.5 points to USA's 0.5 thanks to some sensational morning play.
Setting the tempo early doors were the Spanish duo of Andrea Revuelta and Rocío Toledo, who birdied three of the first four holes to go 4UP before completing the job with an emphatic 8&6 win over Megan Meng and Irene Kim.
Competing in her second PING Junior Solheim Cup, Revuelta said: "We're really good friends and we've played together before. We just went out there to have fun and play our best, and we seemed to make all our shots. The Americans had a tougher time than us but we're really happy."
While rookie Toledo added: "I think the most important thing in foursomes is being friends. We have a lot of confidence. The PING Junior Solheim Cup has been amazing so far."
In a very tight second match, Nora Sundberg (Sweden) and Anna Cañado (Spain) secured a half after tying with Yana Wilson and Jasmine Koo.
Champions from 2021 Francesca Fiorellini (Italy) and Denisa Vodickova (Czechia) earned the second full point after defeating Elizabeth Rudisill and Ryleigh Knaub 2&1 on the 17th hole.
Shortly after, the pair of Helen Briem (Germany) and Yana Beeli added another point thanks to a 3&2 victory over Gianna Clemente and Anna Davis – the winner of the 2022 Augusta National Women's Amateur.
And within minutes, Savannah De Bock (Belgium) and Cloe Amion (Spain) flooded the leaderboard with more blue winning 2&1 against Anna Song and Kathryn Ha.
With one match remaining in the morning, the Swedish duo of Meja Örtengren & Josefin Widal then completed a phenomenal foursomes session by defeating Asterisk Talley and Leigh Chien 2&1 on the 17th hole.
More information can be found in the PING Junior Solheim Cup section of www.solheimcup2023.eu, and follow the Instagram account of the European PJSC Team @jrsolheimcupeurope.