When you first enter Pebble Beach Golf Links, you feel it is dripping with tradition and history. Then you look around, and you feel the vibe that something is different, very different. It is the first-ever U.S. Women's Open golf championship at Pebble Beach, and the place is riddled with fierce women who are here to rule the golf course and here to change history. However, have you ever wondered if they are having fun out there as they face the biggest competition of their lives and the possibility of winning a piece of the largest purses in the history of women's golf? With this behind-the-scenes look at the 78th U.S. Women's Open, let's find out.
Excitement is in the air, and Pebble Beach is here to deliver a spectacular event like no other venue can. From the top of the mountains to the edge of the water, every hole has its own unique scenic view. The smiling staff are there whenever you need them, ensuring they exceed the guests' expectations. Just outside the Lodge, the putting green is filled with enough energy to power a city. This is where most fans get their first glimpse of the players. Surrounded by shops, restaurants, and adoring fans who are patiently waiting for autographs, the players practice their putting. Grins from ear to ear, fans joking with players, and cheerful greetings were all signs that everyone was having the time of their lives.
Rose Zhang, a 20-year-old who just turned professional, is focused on her game but is still here to have fun. "You have to keep the game of golf lighthearted," said Zhang. "It is your profession, but at the same time, you have so many amazing friends around you, and it is a sport that you are supposed to have fun with every single day. Keeping that passion alive is important to me."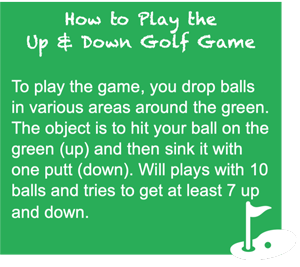 Having supportive friends and family members around the U.S. Women's Open players appeared to be the norm. Annika Sorenstam, one of the best female golfers in history who recently came out of retirement, walked the fairways during the practice rounds with her husband, Mike, and son, Will. How does the G.G.O.A.T. (greatest golfer of all time) make new golf friends on the course? She offered a few tips. She thinks it is easy to connect with someone since you already know you have something in common. She suggests getting out there and going to the golf course, joining a group, and discussing your golf game. Will, no stranger to the golf course, also offered a few pointers for making new golf buddies. He suggests playing golf games on and off the course. On the course, his favorite game is Up & Down; off the course, he likes to play the PGA Tour 2K video game.
The pros weren't the only ones having fun out there. Junior players also met new friends at this year's All in at the Hay event on Wednesday at The Hay. Juniors teamed up with past U.S. Women's Open champions and celebrities such as Mia Hamm and Larry Fitzgerald. The event was in conjunction with the LPGA – USGA Girls Golf program, which specializes in creating experiences showing girls how much fun golf is. And wow, did they deliver! The event felt more like a party than a golf competition, with delicious food and a DJ blasting summer hits. Proud parents stood by and watched their daughters shine. When asked about his daughter, Vivian Lott, playing in the event, parent Richard Lott said, "I'm taken back by words by all that LPGA Golf has done for the community. It is phenomenal."
Young U.S. Women's Open spectators were also treated to unforgettable experiences designed to put smiles on their faces. Aside from personal interactions and autograph sessions with female golfers, fans can participate in one of the many kid-friendly activities, including a selfie zone, chip and putt area, coloring contest, arts and crafts, and a scavenger hunt.
If you aren't able to make it out to Pebble Beach, be sure to catch the 78th U.S. Women's Open on TV, with record coverage this year. People from 190 different countries can tune in and watch over twenty-six (26) hours of championship coverage.
I also got to have a little fun of my own. Brooke Henderson and Rose Zhang played the Would-You-Rather game with me. And now it is your turn to have some fun. Which player are you more like?