The final-round of LPGA Qualifying Tournament is some of the most nerve-wracking golf that a professional will experience. Just ask Georgia Hall, who experienced the wild crowds and exhilarating moments of the Solheim Cup just months ago.
"There is definitely a lot pressure, I don't think I want to do Tour Q-School more than once," joked Hall, who closed with a 72 to finish in a tie for seventh. "Once is definitely enough. Playing at Solheim prepared me mentally for this week."
Hall headlines a group of nine players that finished in the top 20 that will be 2018 LPGA rookies.
The other eight are Tiffany Chan, Rebecca Artis, Luna Sobron Galmes, Robynn Ree, Lauren Coughlin, Kassidy Teare, Gemma Dryburgh and Maria Torres.
The real work begins in January when they'll head to the Bahamas to tee it up alongside the best in the world.
---
Tiffany Chan | Gong Kong, Hong Kong | 24
Chan had plenty of support at LPGA International including her head coach at Daytona State, where she started her college career. Coach Laura Brown and several others posed for pictures with Chan, who closed with a 69 to finish in second place at 11-under for the five rounds.
"I just gave it my best since it was the last chance at Q-School this year," said Chan. "I worked really hard to prepare myself the last two months. Being the first one on the LPGA is really big for Hong Kong golf."
Chan transferred to USC after two brilliant years at Daytona State and then qualified to represent Hong Kong at the 2016 Olympic Games.
With the title LPGA professional now beside her name, she hopes to inspire more young golfers in her home country.
"I know there are a lot of junior golfers that want to go to college and turn pro and I think me being the first will help," said Chan. "I definitely want to inspire the youth in Hong Kong and this was a major step."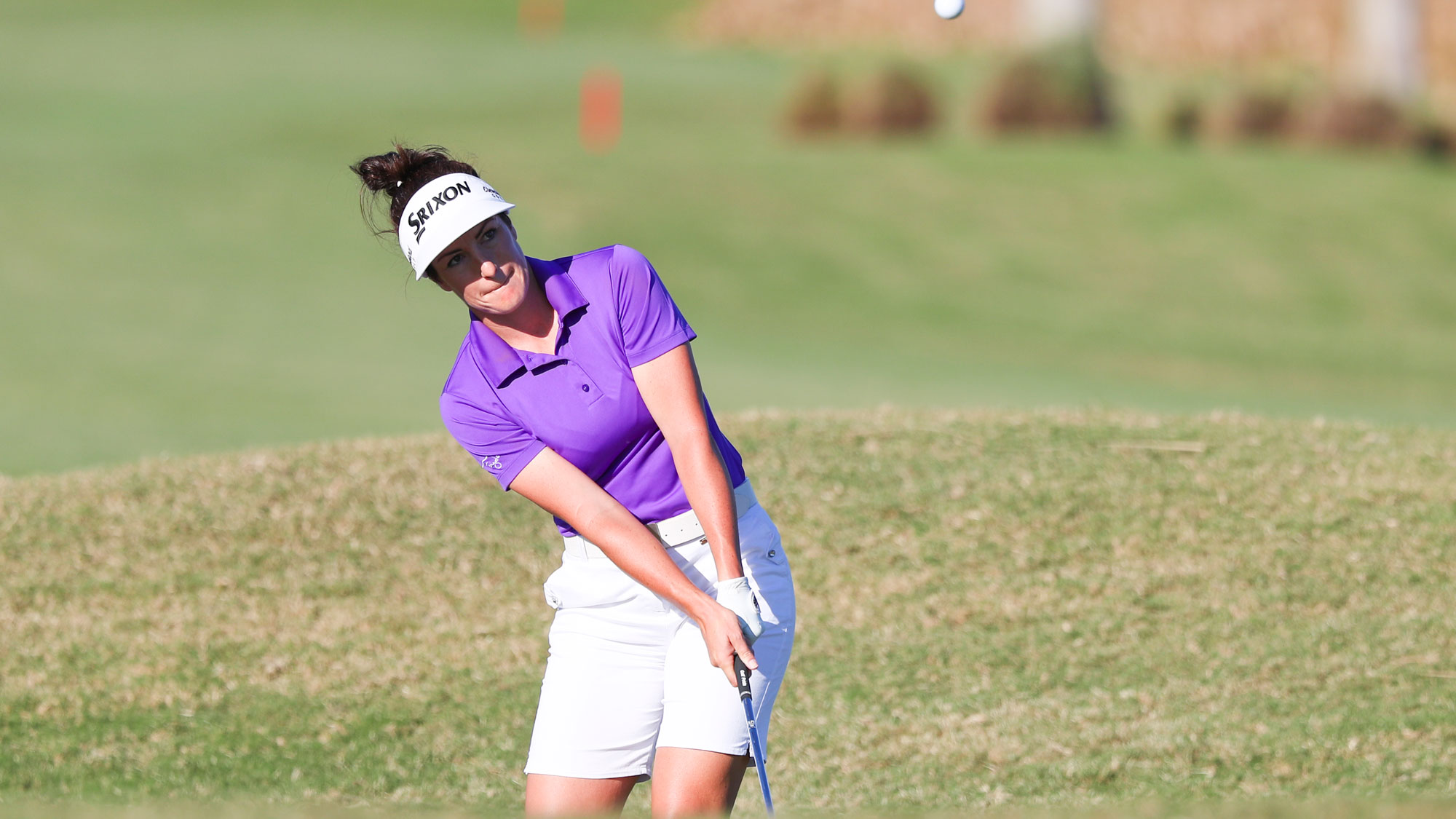 Rebecca Artis | Coonabarabran, Australia | 29
Artis is not your typical LPGA Tour incoming rookie and she knows that.
"Yep, I'm a rookie again at 29," said Artis, who will bring a great deal of personality to the big tour.
Artis tried and came up short at four LPGA Qualifying Tournaments before everything came together this week and she finished fourth at 8-under.
"I've come here (Daytona) previously in some good form. The year I won in Scotland two years ago, I finished top 10 on the LET and played great all year and then came here and played ordinary," explained Artis. "Q-School is one of those things where it has to be your week and I finally got the job done."
Artis' husband and longtime caddy, Geoff, will also be a fun addition to the LPGA with his unmatched sense of humor. He's also been an incredibly supportive husband.
"To be honest, we want a family, but there is no timetable because Geoff has always been there to allow me to follow my dream (LPGA)," said Artis. "We've never put a timetable on it, but now we're on the LPGA so we will reset some goals."
Luna Sobron Galmes | Palma De Mallorca, Spain | 23
The Spaniard closed with a 69 to finish her first crack at Q-School in fifth place. She started playing golf at the age of two and has always been coached by her father, Marcos Sobron.
"He will be so proud of me," said Galmes. "We worked very hard and he dreamed for me to be here."
Sobron Galmes, who played on the LET in 2017, exceeded even her own expectations this week.
"I'm shocked right now," said Galmes. "It has been my dream to be on the LPGA and today it came true."
Keep an eye on her superstitions in 2018. She always wears a white polo and a blue skirt on Sundays, she only plays even-numbered golf balls and always marks her ball with a cross.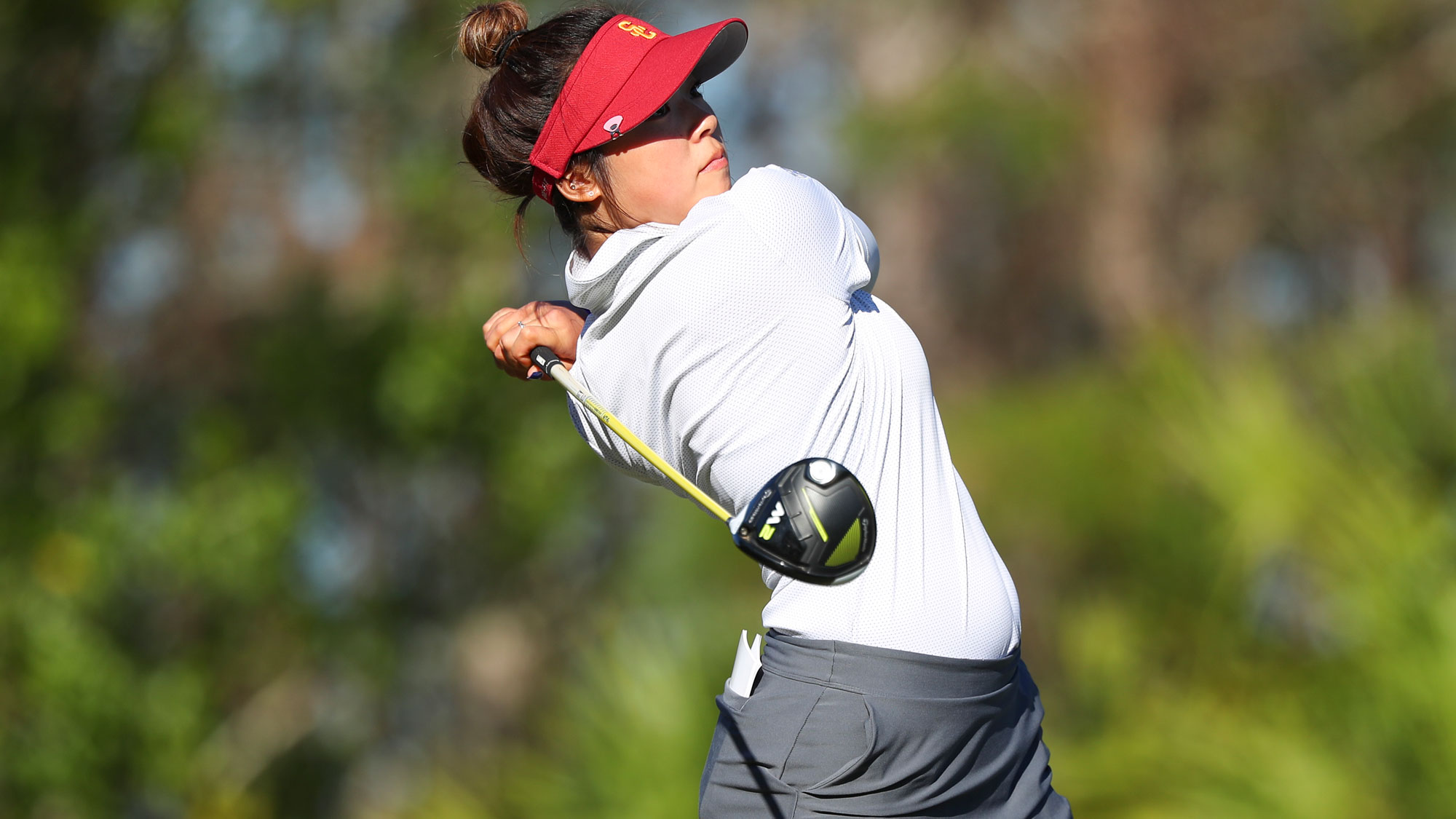 Robynn Ree | Redondo Beach, California | 20
The USC standout immediately decided to turn professional after finishing in a tie for fifth.
Right after walking out of the scoring tent, she was passed a phone and her grandma was on the other end.
"She was just like 'good job, I'll buy you something when you get home'," explained Ree, who has a bubbly personality. "I asked her for a new wallet because I need to keep my keys with my cards so I don't lose them."
She's been thinking about testing the waters at Q-School ever since rumors began to swirl about the LPGA changing the format.
"I just wanted to give myself a chance with the current Q-School format," explained the USC junior Ree. "I'm still going to finish college, I have one year left, but I'm just glad I was able to end my college career on a good note at the East Lake Cup."
The real estate development major isn't quite sure yet how she'll juggle school and the LPGA, but her "big sister" Alison Lee did it so Ree will certainly be reaching out
Ree was an Honorable Mention All-American in 2016-17 as a sophomore.
Lauren Coughlin | Charlottesville, Virginia | 25
The former Virginia star was contemplating quitting golf after a tough first year on the Symetra Tour. She was back on campus at UVA and walked into her college coach's office in September.
"She (Kim Lewellen) told me that if I make it to Final Stage that she'd come down and caddy for me and she did," explained Coughlin. "She basically told me to take two months and work really hard."
The former coach-pupil combo worked well as Coughlin finished in a tie for seventh with three rounds in the 60s.
"This past year was really hard, I didn't play well and I had to get used to everything," explained the emotional Coughlin. "I had a lot of people believe in me and push me and say I could do it. I'm really happy to get to go play the LPGA next year."
After doing some interviews, her fiancé John Pond, a former football player at UVA, was waiting with a big hug.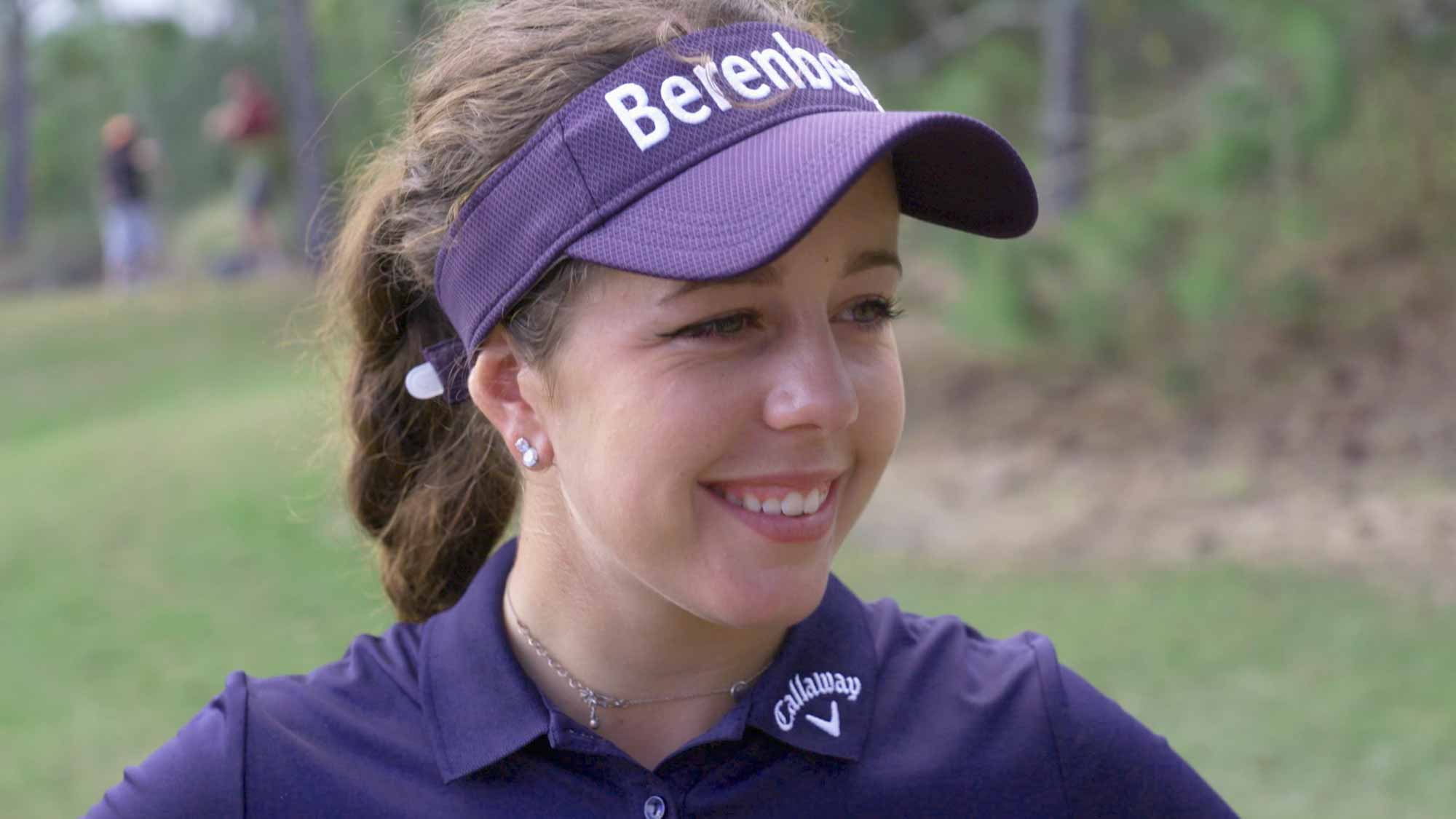 Georgia Hall | Wimborne, England | 21
Hall recovered from a potentially disastrous opening-round 77 to finish in a tie for seventh with rounds of 69-67-69-72 over the final four days.
"I knew it would be a long week and there were a lot of rounds to play after my first one," said Hall. "It was a horrendous start, but I'm very happy that I came back. I played really well the rest of the week."
After a tremendous year on the LET that saw her rise to No. 41 in the world, Hall was laser-focused on this week. She admitted that she hasn't even glanced at the LPGA schedule.=
"After such a good year, I didn't want to not get my tour card," said Hall. "It's tough when one week determines the whole next year so I'm happy I got it done."
Hall will be an intriguing follow on the LPGA after a 2-3-0 record at the Solheim Cup and a T3 finish at the Ricoh Women's British Open.
Kassidy Teare | San Diego, California | 23
In probably the most surprising move of Sunday based on where she stood (T34 into final-round), Teare carded a 6-under, 66 and finished in a tie for tenth. She birdied her final five holes including a 35-foot bomb on nine to end her day.
"I'm proud of myself because I feel like I accomplished something that I always wanted to do," said Teare, who was a rookie on the Symetra Tour in 2017. "I'm not sure I ever really felt like I accomplished my goals until now."
Teare's grandfather, Clay, taught her the game. He passed away after a bout with Alzheimer's two years ago. She was thinking of him and her entire family a great deal after the round of her life.
"I can remember hitting balls in his backyard, they have this big farm property, which is where I'm getting married" recalled Teare. "He would set up mats and we'd just whack away and that's where I learned. I know he is watching over and I owe my whole family a lot."
Teare was also quick to acknowledge her swing coach, Ted Norby.
"I've been with him since high school and I can't wait to have him with me on the LPGA," said Teare. "He has helped me overcome so much within myself and golf game."
Gemma Dryburgh | Aberdeen, Scotland | 24
The Scot has played the Old Course, Carnoustie and Prestwick. Now, she'll get to play more gems in the U.S. and around the world after finishing T13 buoyed by a final-round 68.
"I have been working towards this (LPGA) since I was about 16 years old," said Dryburgh. "I have been working hard on my game the last year and really saw the difference this week."
Dryburgh first came over the U.S. to attend Bradenton-based IMG Academy and then played college golf at Tulane.
She has played the Symetra Tour each of the last two years.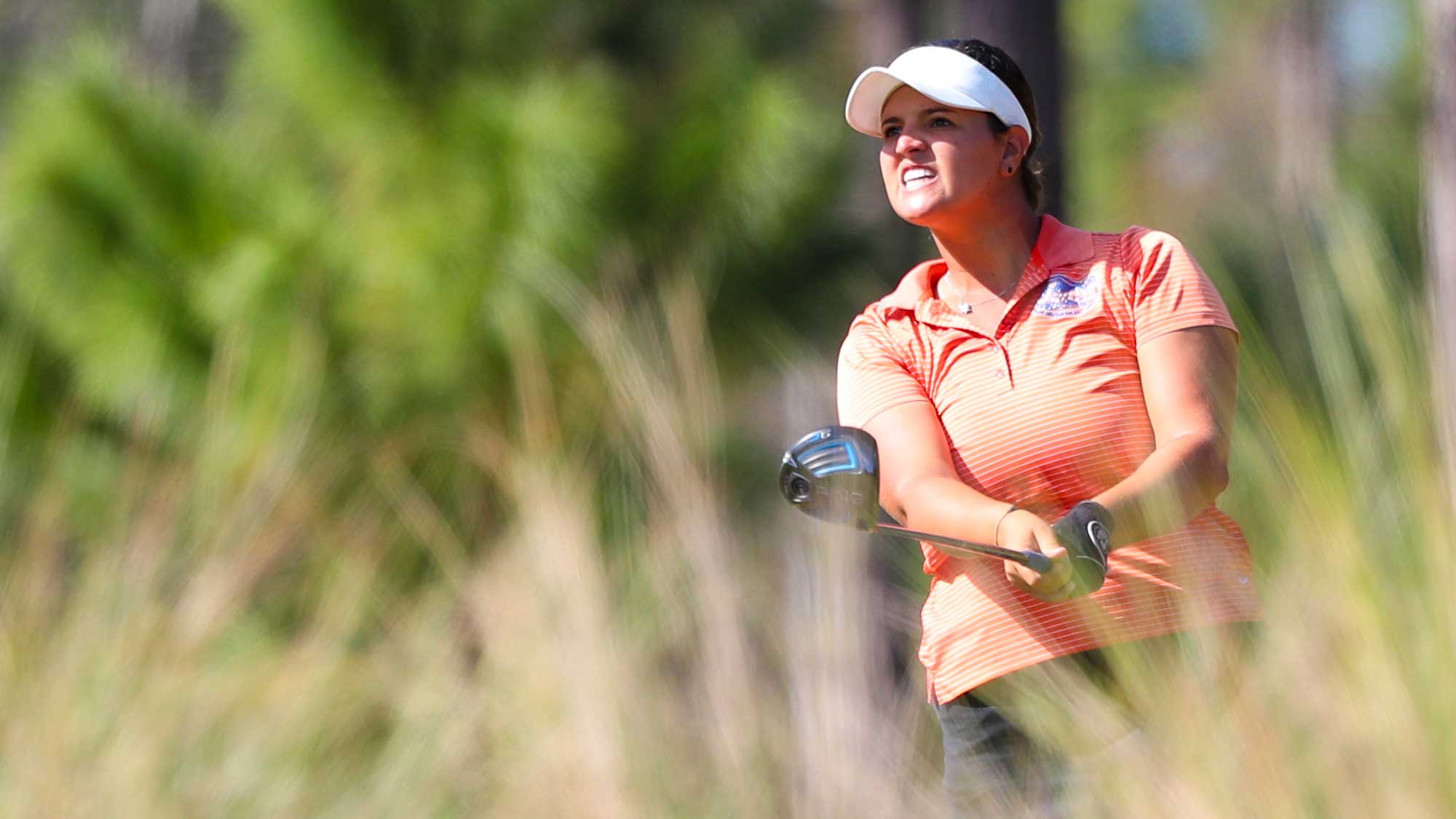 Maria Torres | San Juan, Puerto Rico | 22
Torres carded a 74 on Sunday and was forced into a three-way playoff for the final spot in the top 20. Torres made birdie on the second playoff hole to win the three-hole aggregate.
"I am in shock, that's all I can say. I cannot believe it, but it's just a dream come true," said Torres. "It's a step to enter the LPGA and get to play, and then turning pro right before the playoff was interesting too."
Her story is remarkable considering she had to deal with Hurricane Maria and almost missed signing up for Stage II because there was no cell service or wifi connection on the island.
"I've been grateful throughout this disaster that we had in Puerto Rico. Just being able to have like laundry and AC, stuff like that, I just wanted to do my thing (on the course). I've been practicing, just wanted to put it in play."
Torres was the SEC Golfer of the Year at Florida in 2016.