When Jodi Ewart Shadoff was in high school, she wanted nothing more than to beat the boys in everything: soccer, track and field and golf. It's the same competitive spirit that has her determined to snatch a breakthrough win on the LPGA in 2018.
Ewart Shadoff has accomplished a lot in her six years on the LPGA Tour.
She has 14 top 10 finishes, has twice represented Team Europe in the Solheim Cup and represented England in the 2016 UL International Crown.
It's clear what's missing on the resume.
Ewart Shadoff will enter her seventh full season on the LPGA in the best physical shape of her golf career and with a swing that hasn't been better.
The pieces are in place for a breakout year.
"I've been working hard on my game, made a couple changes in the swing," said Ewart Shadoff. "I'm just working really hard in the gym with my trainer, Trevor Anderson. It has been cool to see what we have been doing in the gym is now transferring to the swing. I'm excited for the year."
The last couple of years, Ewart Shadoff has entered the offseason with hamstring issues so she was limited in the gym. No lower body workouts, no sprinting. This year, she had a 100 percent healthy off season to prepare.
"I'm doing dynamic stability exercises and high intensity workouts, keeping my heart rate up. I'm not pushing a lot of weight, but instead being able to understand my body and how it works with the golf swing."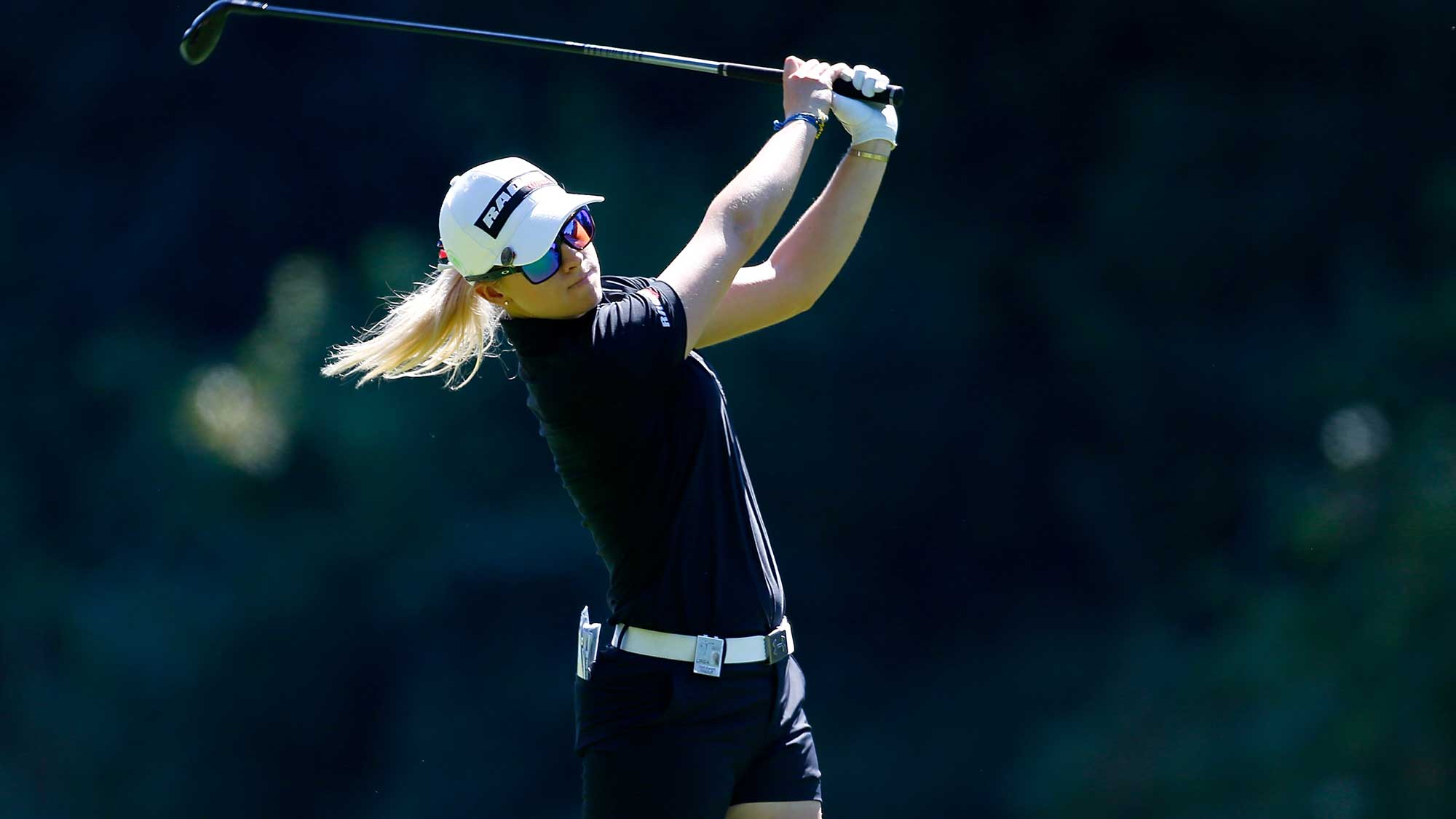 Ewart Shadoff has had her share of close calls. The 2017 Ricoh Women's British is the most recent example, where she carded a final round, 64 to finish second. She made the greatest birdie of her life on hole 17, where she had to carry a bern in front of the green from 180 yards with 30 mph wind in her face. She hit a perfect 3-wood and made birdie, but still came up two strokes short.

In the past, winning has consumed her.

"I've struggled in the past to let it (win) happen. I've been trying to force it too much. I've been putting a lot of pressure on myself to win. The focus now is to just let it happen. I've got every piece of the puzzle. I'm probably the most confident I've been going into a season."

The self-described "range rat" has always enjoyed beating balls over the monotony of practicing her putting. The statistics reflect this. While she ranked19th in greens in regulation, she ranked 135th in putting average in 2017. Ewart Shadoff made a concerted effort this off season to focus on her short game, putting in particular.

"I looked back at last year and figured out that when I played well I was just holing more putts so that's what I have to do this year," said Ewart Shadoff. "My coach David Leadbetter has given me some great drills to keep practice interesting. A lot of people neglect the short game because they get bored on the putting green doing the same thing over and over. It has been nice to challenge myself."

Leadbetter devised games on the putting green where Ewart Shadoff can keep score and challenge herself.

While the now 30-year-old isn't a huge goal setter, she's clear about her top priority.

"The number one goal this year is to capture that first win."

She also recognizes that winning on the LPGA has become harder and harder, even in her relatively short time on the circuit.

"It's crazy how much lower the scores are the past couple years compared to when I first came out," said Ewart Shadoff, whose rookie year was 2011. "The depth of talent is amazing. I enjoy the challenge. It can either kill your confidence or build confidence."

Ewart Shadoff, who finished 31st on the money list in 2017, will start her season in Australia and you know she won't back down from the challenge of capturing her first win.