American Cristie Kerr led from start to finish to complete an emotional victory at the Lacoste Ladies Open de France, for her first win on the Ladies European Tour.
A 19-time winner on the LPGA, Kerr was inspired to a dominant performance by playing for a cancer charity.
"I played for cancer and we lost Cassandra (Kirkland) and we lost a good friend of mine back home on Tuesday to cancer. I'm sorry, but f*** cancer," said Kerr, who is well known for her fundraising work for Birdies for Breast Cancer.
Players were asked to donate five euros for every birdie recorded during the first two rounds of the tournament to a charity called ARTIC, in memory of Ladies European Tour player Cassandra Kirkland, who died from cancer in April. Kerr declared that she would make a US$5000 donation to the charity.
"I played for them, and I played for myself. I'm so sorry to say the F word, but I'm so sick of people losing people to cancer," she said, fighting back tears throughout her post-round interview.
After holing out with her second shot for eagle on 18 in her third round, she nodded to the blue sky above and she again pointed to the heavens after making a par on the final hole for a total of 17-under-par and a four-stroke margin of victory.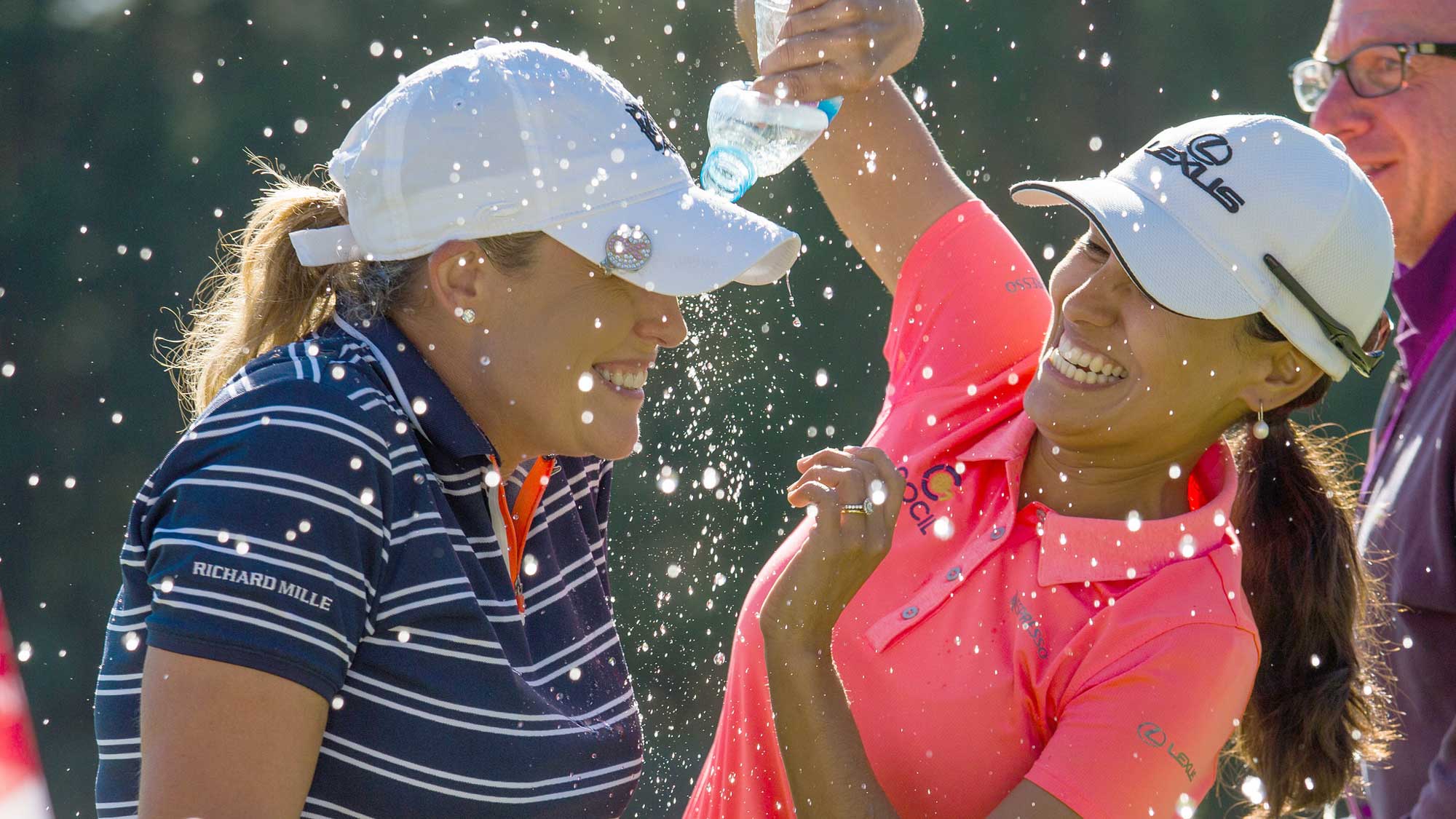 "I've been having an angel on my shoulder all week. I was on a mission and I got it done for them," she said.

Kerr began the final round with an enormous nine stroke lead, but despite a birdie barrage from China's Xi Yu Lin, no-one was able to threaten the United States' all-time Solheim Cup points' scorer.

"Sometimes it's really hard to play with a big lead, because you get complacent and so many people played well this week, but I'm happy to come out with the trophy," said Kerr, the world number 14, who won the LOTTE Championship in April.

Kerr stamped her authority on the championship with an eight-under 62 at Golf de Chantaco on Thursday, registering eight birdies and taking a three-stroke lead into round two.

She fired another six birdies in a flawless second-round of 64 on Saturday and then completed a third-round 68 on Sunday morning, including two birdies and an eagle on the back nine.

Kerr was able to grind out 17 pars and a single birdie on the long 15th hole in glorious sunshine at Golf de Chantaco, the Lacoste family's home course, for a final round of 69, just four days before her 40th birthday.

In the final round, China's Lin made back-to-back bogeys on the second and third holes, but then sprinted into second position with eight birdies for a round of 64 and a total of 13-under-par.

The two-time tournament winner Azahara Muñoz, who won the title in 2013 and 2014, had earlier posted a 69 and ended in third position on eight-under.

Anne Van Dam made four birdies in her first seven holes to get within five of the lead, but then dropped four strokes on the back nine, slipping into fourth position alongside Holly Clyburn.

Also in the top-10 were Agathe Sauzon (63), Whitney Hillier (68) and Belen Mozo (70), who tied for sixth place, while the 2016 champion Beth Allen tied for ninth place with the 2015 winner Céline Herbin, Valentine Derrey, Noora Tamminen and Klara Spilkova, the Lalla Meryem Cup winner in April