HOFFMAN OUT FRONT IN STAGE II AFTER ROUND ONE
VENICE, Fla. — As the lights go out on day one at Plantation Golf & Country Club, Sarah Hoffman (Saline, Michigan) holds the outright lead in Stage II of the LPGA Qualifying Tournament thanks to a solid 7-under par 65 performance on the Bobcat Course.
"I had good yardages into the hole and really like the speed of the greens," said Hoffman, who carded a bogey-free, 5-under par 31 going out. "My caddy Michelle [Simpson] and I were reading them perfectly, my line was matching up with the speed and they were just going in."
If one didn't know it was the duos first time working together, they wouldn't be able to tell otherwise. Hoffman and Simpson met earlier this year when Hoffman's family hosted Simpson for the LPGA Volvik Championship in Ann Arbor, Mich., where Simpson caddied for Katie Burnett.
Since the initial meeting, their friendship has slowly blossomed and its strength was showcased this afternoon.
"We kept it loose, laughing on the course and then focused over each shot when we needed to," Hoffman said. "We didn't talk about golf in between shots and it helped me relax. It's awesome to get off to a good start, but we can't get complacent. We are going to stick to the gameplan and keep focusing over every shot, giving it our best and hope the putts keep dropping."
Meanwhile, the round of the day on the Panther Course belonged to Sandy Choi (Seoul, Republic of Korea). The 2018 Epson Tour rookie and former Duke University standout fired a 6-under par 66 to claim solo second heading into round two.
"I started off birdie-birdie so that was a huge confidence boost and I'm pretty accurate with my shots so that helped on the Panther Course," said Choi, who finished tied for fifth at Stage II of the 2017 LPGA Qualifying Tournament with an overall score of 8-under par. "Last year I played pretty solid, so I feel like I can play well again this year and I started off on the right track."
Bogey-free until the par-4 18th, Choi found a groove with her putter that helped get things moving for her. That was something she said was lacking in the final round of the Epson Tour Championship last Sunday when she recorded 34 putts.
"Before I came here, for the five days after our final tournament in Daytona Beach I worked on my putting because it was pretty poor," Choi said. "I worked out a lot of things in my putting, so it feels good that it showed today."
After 18 holes, a total of 27 players are at 2-under par or better, with 11 more individuals sitting on the 1-under par mark. Meanwhile, 58 competitors enter day two at even par or better.
A minimum of the top-25 players and ties will advance to Q-Series, contested from Oct. 22 through Nov. 3 in Pinehurst, N.C. at Pinehurst Resort. Those at the next score, or scores, will also advance provided that the total number of players in Q-Series does not exceed 108, which currently has 62 exempt and entered competitors.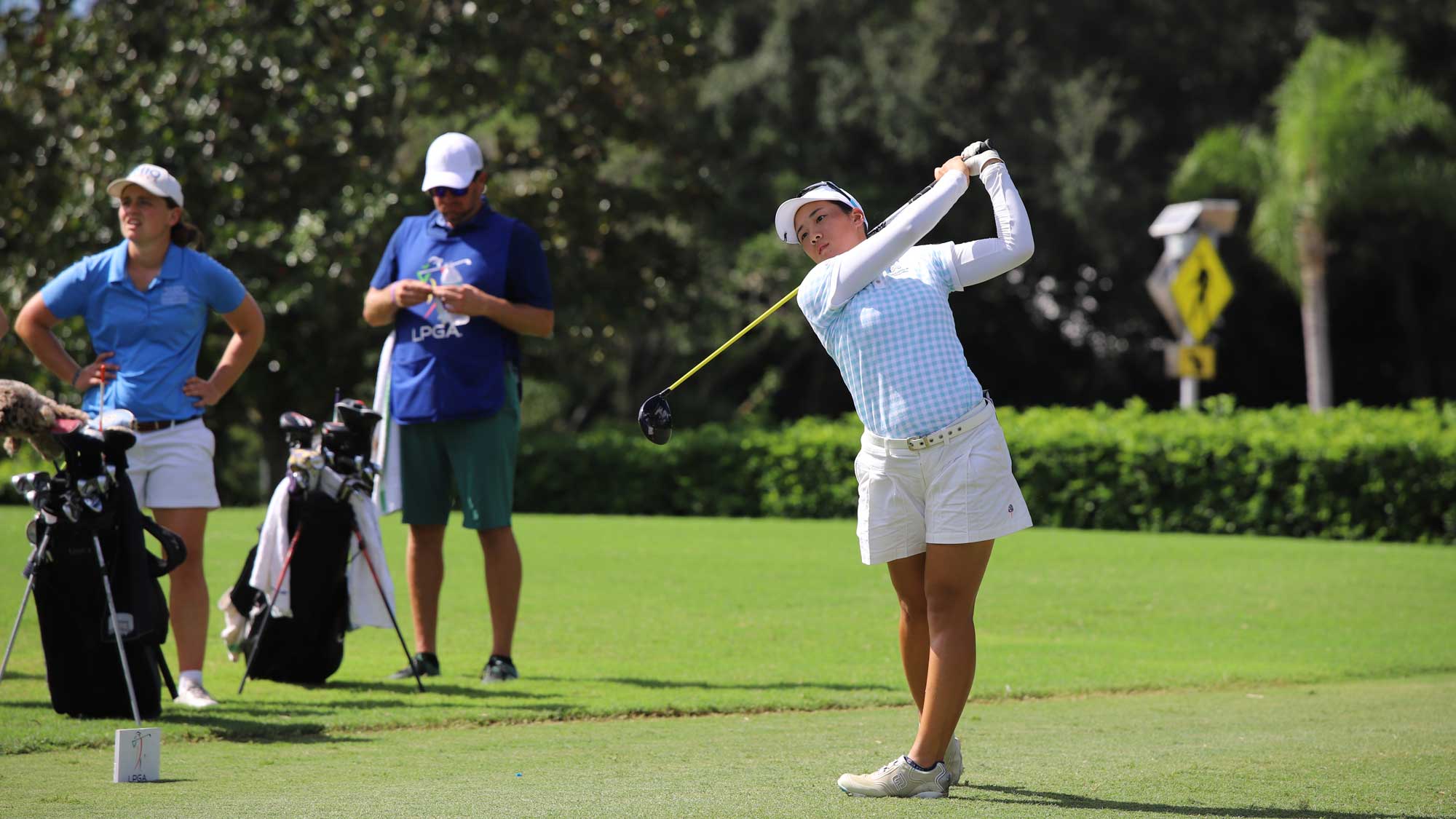 YAMAGUCHI STAYS IN COMPETITIVE FORM
Competing in her first LPGA Qualifying Tournament as an 18-year-old, amateur Suzuka Yamaguchi (Sagamihara, Japan) is looking like a tested veteran.
She finished tied for second in Stage I at 9-under par overall, only one shot back of medalist Yujeong Son (Busan, Republic of Korea). Meanwhile, Yamaguchi continued her strong play with a 5-under par 67 on the Bobcat Course to put her in solo third after the first round.
"I had never played on this course, so I didn't have any expectations before coming here," Yamaguchi said after recording seven birdies and two bogeys today. "Even though there are fewer people at Stage II, the level of competition is higher. I have to keep playing as hard as possible."
After she advanced past Stage I, Yamaguchi returned to her native country where she prepared for this moment. The teenager stayed in competitive form by entering the field for the Stanley Ladies Golf Tournament on the LPGA of Japan Tour.
"Being based out of Japan, but with no home club at this time, I think it was very helpful to play in that tournament to get ready for Stage II," said Yamaguchi, who finished tied for 14th in the event at 2-under par. "I didn't feel any nerves as one of the younger competitors and don't this week either."
Tomorrow, Yamaguchi will tackle the Bobcat Course. Her second round begins off No. 10 tee at 12:31 p.m. ET with playing partners Allie White (Lancaster, Ohio) and Elise Bradley (Mandeville, Louisiana).
SARAH HOFFMAN FIRST ROUND INTERVIEW
SANDY CHOI FIRST ROUND INTERVIEW
TRENDING ON SOCIAL