WIRE-TO-WIRE WIN IN SIGHT FOR YUAN
RANCHO MIRAGE, Calif. — A different day, but the same leader emerges at the First Stage of the LPGA Qualifying Tournament in Celina Yuan (Sydney, Australia), who used a 2-under par 70 on the Arnold Palmer Signature Course to maintain her position atop the leaderboard.
Her gameplan heading into round three was find greens in regulation and two-putt, at the very least. She did just that and more, even joking that she needs the warm desert weather to play well.
"That was pretty much what I did because the iron shots weren't going as planned, but I still got it on the green and would two-putt," said Yuan. "Throughout the year, this is the first tournament that I have played under par all three days and it feels great."
The performance to this point has landed Yuan the chance for a wire-to-wire win. However, that's the least of her focus.
"I try not to think about winning, just stick to the same gameplan," Yuan said. "I'm excited to finally play under par, that's all I can say. The Epson Tour has definitely helped to improve my game because I have learned so much. This tournament comes and everything fits in place."
Also in the final pairing at 8:45 a.m. PDT this morning off No. 1 tee on the Arnold Palmer Signature Course was Ingrid Gutierrez Nunez (Cuautla, Mexico). She carded a 3-under par to get within one of Yuan and hold down second place all by herself.
Entering the final round on the Dinah Shore Tournament Course, the two-time First Team All-Mountain West selection is very familiar with the venue, as Mission Hills Country Club also hosts the Mountain West Women's Golf Championship. The past four years, Gutierrez Nunez has battled in the conference tournament on the exact 18 holes she'll play tomorrow.
"It has played really different than it did in conference, but I love the Dinah because it's such a beautiful golf course and in perfect condition all the time," said Gutierrez Nunez. "We played it in April and right now the grass is really different and it plays way longer, but I know where to go even if I'm in a bad position. That gives me a lot of confidence."
The other piece to the puzzle in group 57 was amateur Suzuka Yamaguchi (Sagamihara, Japan), who had the best score of the three at 5-under par. Now at 9-under par overall, the 18-year-old sits in a tie for third with another amateur, Yujeong Son (Busan, Republic of Korea).
In bogey-free fashion, Son shot one of the rounds of the day at 6-under par.
"It's amazing to think that I am up there right near the top out of a 340-player field to start, so it is pretty cool," Son said. "Coming here, I just wanted to make the cut. I have been putting good all week and was just playing my game today."
Meanwhile, Danielle Lemek (Albuquerque, New Mexico) also found her way to a 6-under par. In a move that fully encapsulates moving day, she started the third round tied for 169th at 6-over par and ended tied for 37th.
"Last night was rough and the last two days were rough, it wasn't the performance that I was looking for and I felt like everything was going in the wrong direction," said Lemek. "Not thinking too much because I had nothing to lose, today just felt easy. You work 365 days for this one event and if you let it slip through your fingers, it's the worst feeling in the world. That's what I felt yesterday and I don't want to feel that way again."
Another significant move came from amateur Bailey Tardy (Norcross, Georgia) with a bogey-free, 5-under par showing. It helped launch her comfortably inside the cut line at 2-over par overall.
"I played in the prep tournament last week and I actually won that, so I had good confidence going into this," Tardy said. "I kind of used that in the back of my mind, knowing that even though I was 7-over, if I could just play another round like I did last week then I would have a pretty good chance at making the cut."
A total of 146 players made the cut of 7-over par, while 111 competitors sit at 4-over par or better. Final round action picks up tomorrow at 7:15 a.m. PDT with all players venturing onto the Dinah Shore Tournament Course.
Those advancing to Stage II shall include a minimum of the lowest 100 scores and ties after 72 holes. Those at the next score, or scores, will also advance to Stage II, provided the total number of players entered into Stage II following the conclusion of The Evian Championship does not exceed 216. The notification of the additional advancing players will occur following The Evian Championship on September 17, when the field for Stage II is finalized.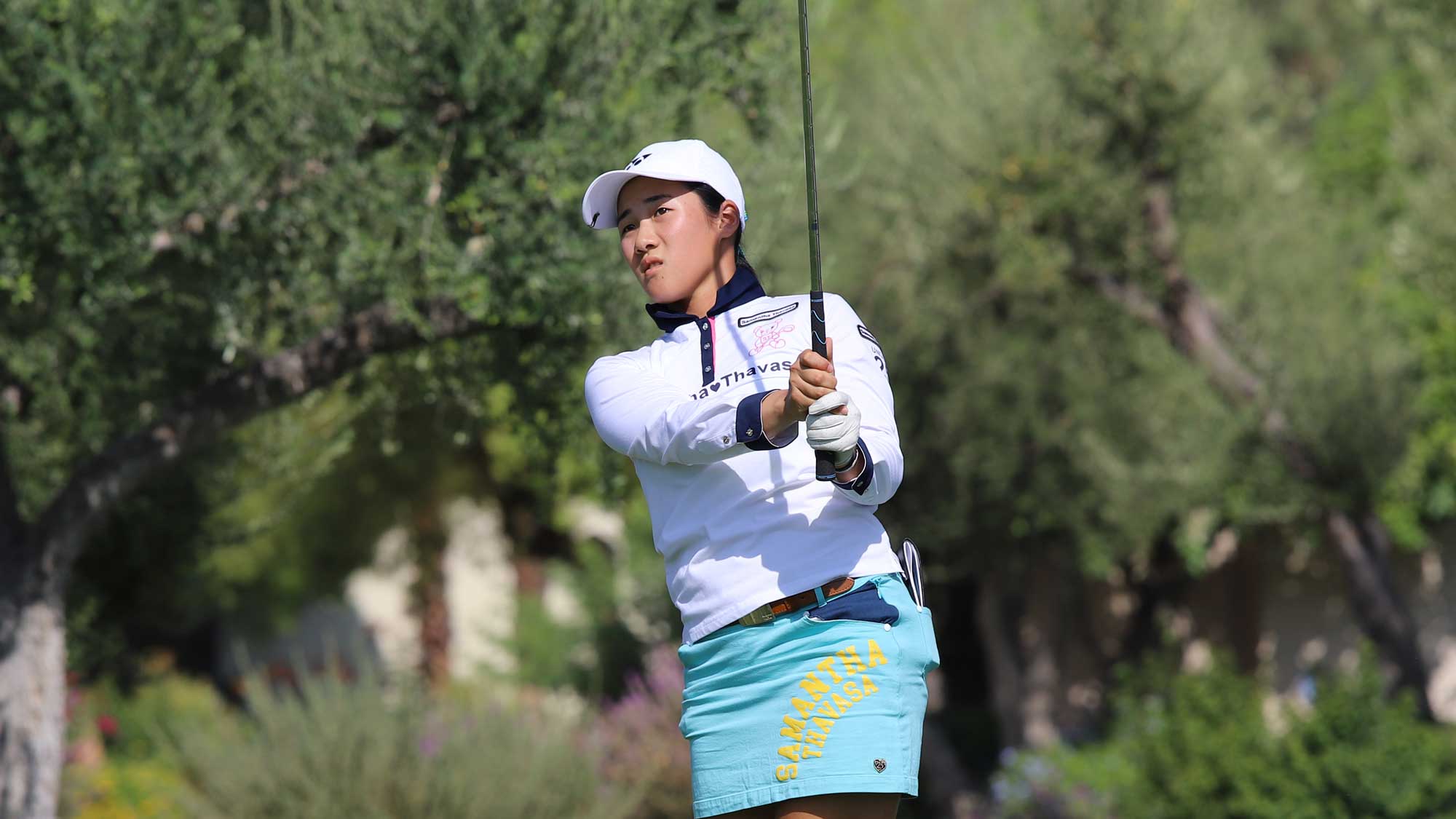 YAMAGUCHI IN THE HUNT
Perhaps a familiar name to golf fans, Suzuka Yamaguchi heads into the final day at Mission Hills Country Club tied for third at 9-under par overall.
She'll play in the penultimate pairing tomorrow at 1:50 p.m. PDT off No. 1 of the Dinah Shore Tournament Course with amateur Gigi Stoll (Beaverton, Oregon) and Epson Tour professional Taylor Totland (Tinton Falls, New Jersey). However, her performance this week isn't the reason some alarms may go off when people hear her name.
Yamaguchi was the youngest competitor in the 2015 U.S. Women's Open at 14 years, 11 months and 10 days when the major opened play on July 9, 2015 at Lancaster Country Club, 80 miles west of Philadelphia. She was among 30 teenagers in the field that year, as well as 25 total amateurs. It was an experience that helped prepare Yamaguchi for this stage.
"My goal is to be on the LPGA Tour," said Yamaguchi. "I have seen them play, so that is my goal and watching Nasa [Hataoka], I want to follow what she is doing. It was the biggest event all around the world, the U.S. Women's Open and I wanted to participate and experience it."
The background has certainly helped motivate Yamaguchi, who recorded a chip-in eagle from the greenside rough on the par-5 18th to conclude her round today. It all adds up to a confidence that has her only two shots back of the lead.
"During the practice round last week I got an eagle on the same hole, so I felt very good hitting from that area," Yamaguchi said. "Tomorrow I will probably shoot for no bogeys, that's the goal, and also to not have any stupid mistakes."
CELINA YUAN THIRD ROUND INTERVIEW
INGRID GUTIERREZ NUNEZ THIRD ROUND