Annika Sorenstam's golf career is all about being No. 1. On 72 occasions, she was first in an LPGA event, 10 of those major championships. She's still No. 1 on the career money list more than a decade after retiring. And now she'll be the first female professional to compete in the PNC Father/Son Challenge.
Adding to the story, Annika won't be playing with her children – Ava, 10, and Will, 8. Instead, her teammate in the 36-hole scramble is her father, Tom, the man who first put a golf club in her hand at Bro Balsta Golf Club in Sweden 40 years ago.
Completing the family affair, Sorenstam's husband, Mike McGee, son of former PGA Tour player and 1977 USA Ryder Cup team member Jerry McGee, will be her caddie and her sister, Charlotta, will caddie for Tom.
"I am honored to play in the PNC Father/Son with my Dad," Sorenstam said. "I have watched that tournament in the past and you can see how special it is for all the participants. Since our kids are a little young, I am glad to be able to play with my Dad. We will have some laughs."
Among those in the 20-team field Dec. 5-8 at the Ritz-Carlton Golf Club Orlando are Jack Nicklaus and Gary Player, who both completed the men's career grand slam, a feat Sorenstam accomplished on the LPGA. Also playing are eight-time major winner Tom Watson and Bernhard Langer, who's won the Father/Son three times with two different children.
While there has never been a female professional in the event, there have been daughters. Fuzzy Zoeller played with Gretchen in 2005 and Langer competed with Christina in 2016. This year, Jerry Pate will play with his daughter, Jenny.
The rules say the pro in the Father/Son must have won a grand slam event or The Players Championship and the partner must be an amateur. Annika and Tom meet that criteria. The event has always been inclusive with grandfathers (Arnold Palmer played with Sam Saunders), step-sons (David Duval won with Nick Karavites in 2016) as well as daughters.
"We try and refresh and rotate the field every year to provide different experiences for our partners, spectators, and viewers," said Alastair Johnston, Vice Chairman, IMG, and Executive Chairman, PNC Father/Son Challenge. "We have done this with the enthusiastic support of our sponsors."
Among the winners have been Davis Love III, who won twice with his son Dru. Raymond Floyd won with Raymond Jr., twice and Robert once. Langer won once with Jason and twice with Stefan. Larry Nelson won twice with Drew and once with Josh while Jack and Gary Nicklaus took the title in 1999.
"It will be a lot of fun to play with my Dad," Sorenstam said. "He introduced me to the game and has always been a big supporter. Mike will caddie for me and my sister, Lotta will caddie for my Dad. Our kids will be there and get to see us play so it should be a fun couple of days."
Dad is also looking forward to the experience.
"I don't get to see Annika play much anymore so I look forward to that," Tom Sorenstam said. "Then to be able to play alongside her with Lotta on the bag will be very special."
Sorenstam, who ended her LPGA career after the 2008 season, started paving trails even before she turned pro. In 1991, while at the University of Arizona, she was the first freshman and first non-American to win the women's NCAA title.
As a pro, she continued making history. In 2003, at the Bank of America Colonial, she became the first woman in 58 years to play in a PGA Tour event. Eight times she was Rolex Player of the Year and six times won the Vare Trophy for lowest scoring average. Her 68.6969 in 2004 is still the LPGA record.
"Annika is one of the greatest golfers of all-time and a true ambassador to the sport," said Jon Miller, president of programming, NBC Sports Group. "Our viewers will cherish watching Annika revive her competitive juices inside the ropes alongside her father against many other of the game's legendary players and their families."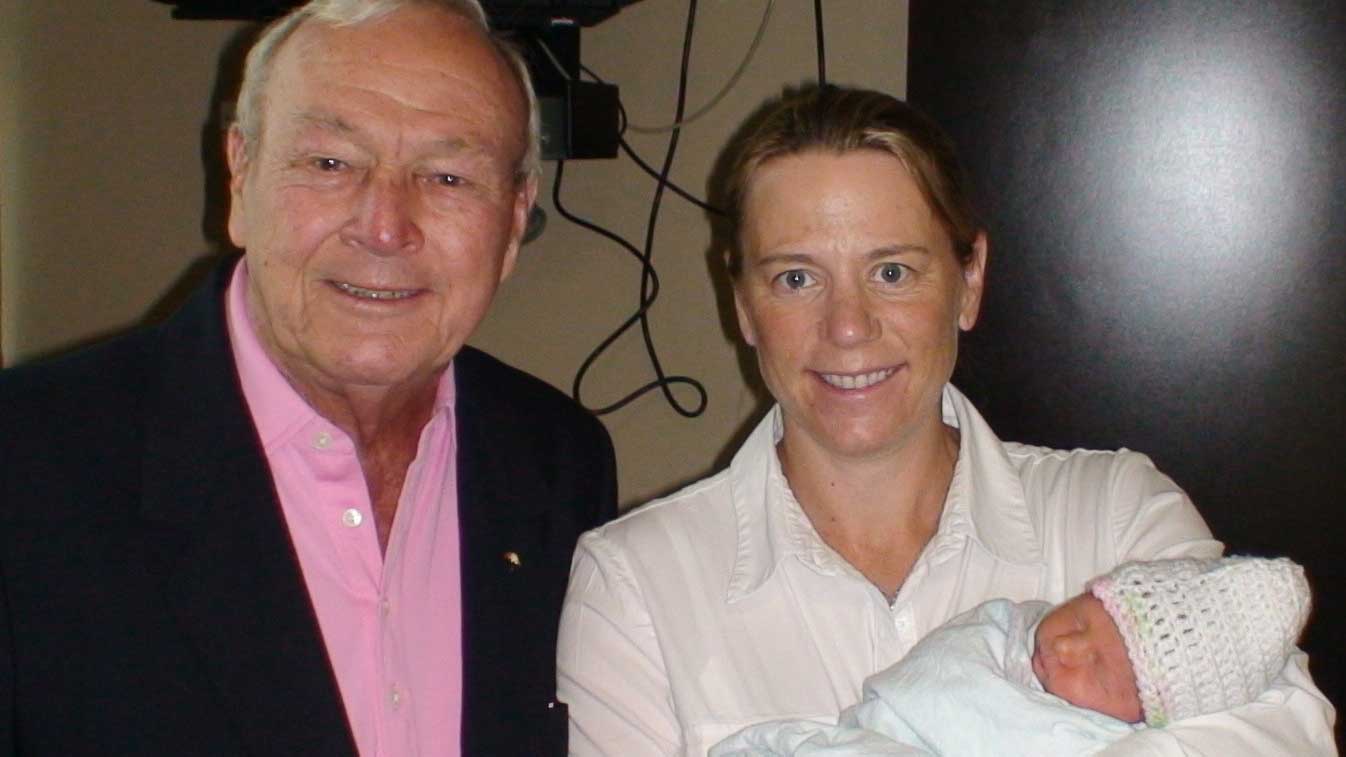 The Father/Son Challenge was a favorite project of Arnold Palmer and he and Annika were friends. That bond deepened when Will was born extremely premature and not only survived but thrived because of Palmer's charitable work. His name comes from his incredible will to live after his traumatic birth.
"Arnold would have been absolutely delighted with this year's field, especially with Annika's participation," said Johnston, who noted the Palmer family invited Annika to speak at a celebration of Arnold's life after he died in 2016.
"He was very fond of her, and they collaborated both on commercial ventures, such as golf course design, as well as charitable endeavors," Johnston said. "Annika has been very vocal in her appreciation for the special care that her own baby was extended at the Arnold Palmer Children's Hospital in Orlando."
Johnston once said of the Father/Son: "Golf provides a compelling bond between fathers and children. Unlike most other sports, it is a game both can share throughout their lives. Being a good golfer is like being a good father. It takes commitment, effort, practice, patience and a subjective perspective on success and failure."
Now that can now be amended to read "parents" instead of fathers because this year a Mom is in the field. It's yet another way Annika Sorenstam has been a pioneer for women and for golf.