180 holes and two stinkin' strokes. Golf can sting.
That's the margin that has separated Madeleine Sheils from full-time status on the LPGA over the last two years at The LPGA Qualifying Tournament.
She has come up a single shot short at Final Stage each of the last two years.
Of 165 players, she finished a very respectable T23, but it's still not the top 20.
Sheils estimates that her T23 finish will guarantee her seven starts in 2018 while a top 20 finish would have positioned her for 18 to 20 guaranteed starts.
"With full status, you actually have a set schedule," said Sheils, who made 13 starts on the LPGA in 2017. "I won't get into anything until Hawaii (April). It's a comfort thing when you know your schedule and I really won't."
A day after heartbreak, Sheils took to Twitter (@m_sheils) to express her honest feelings. She was laying in bed and wanted to explain her mixed feelings to her family, friends and fans that probably were a bit torn as to whether they should congratulate her or not. Partial status is really impressive, but full status is what everyone strives for.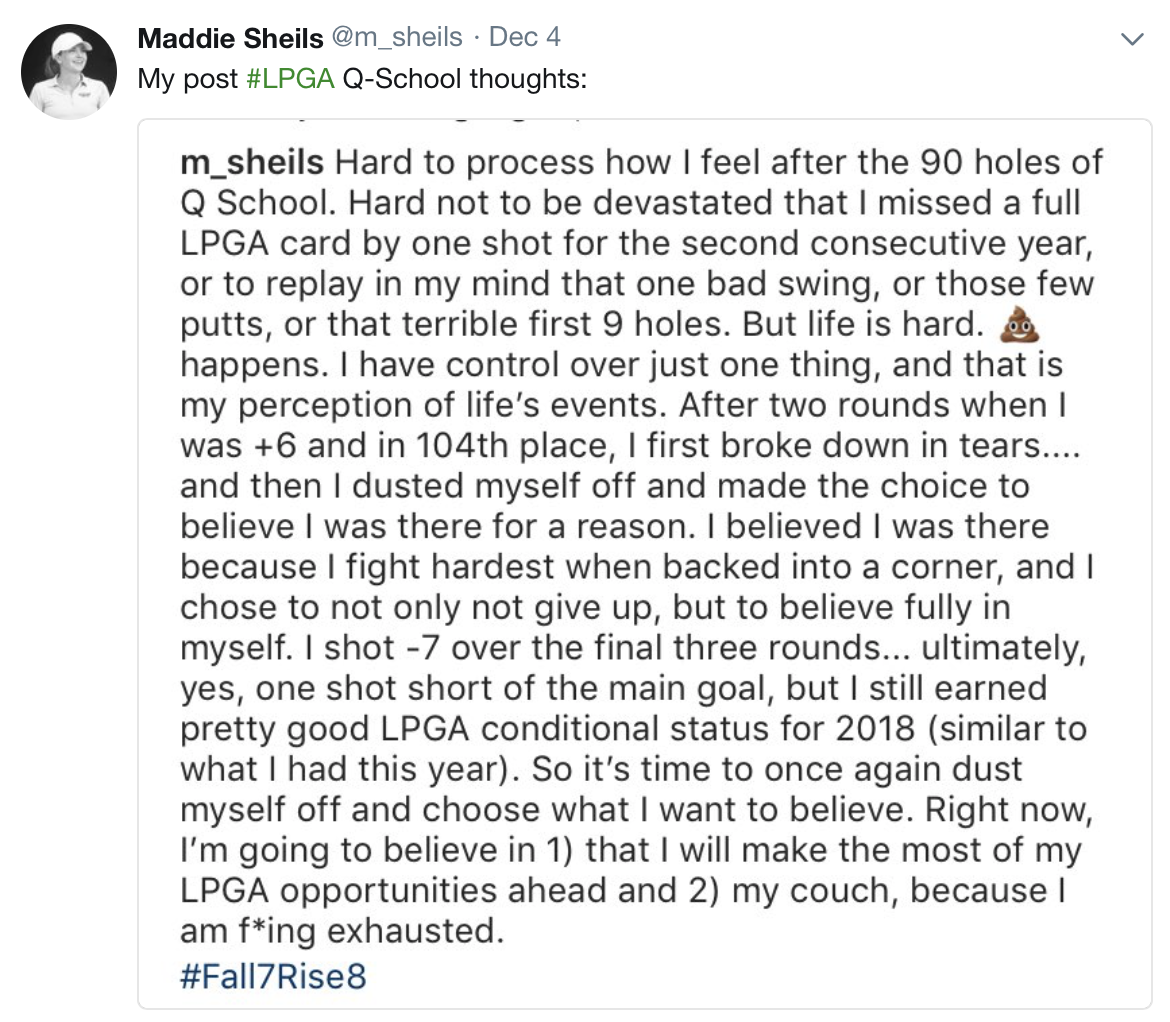 "Hard not to be devastated that I missed a full LPGA card by one shot for a second consecutive year, or to replay in my mind that one bad swing, or those few putts, or that terrible first 9 holes," Sheils tweeted. "After two rounds when I was +6 and in 104th place, I first broke down in tears and then dusted myself off and made the choice to believe I was there for a reason."
Sheils has never been afraid to open up in a public forum. She has written a blog on her personal website – MadeleineSheils.com – for the last five years. Every four to six weeks, she provides her fans a detailed look inside her life on Tour, the positive and the negative.
So, how did Sheils go from T104 to T23 and partial LPGA status in three days? It's a lesson in leaning on those closest to you and believing.
After the second round, Sheils put her clubs in her car, slammed the trunk and hopped in to drive out of LPGA International. She was nowhere near in the hunt for LPGA status at that point and immediately phoned her mom, Joni.
"I started to tear up on the phone and was so down on myself," explained Sheils. "We talked for 20 minutes and she was the one that said 'you can do this' and 'you have to believe.' She told me that everyone is going through mental struggles and that I need to be strongest."
Then, she got a text from her caddie Kyle Peters. She read LPGA.com the text verbatim.
"You are a member of the LPGA Tour and one of the best golfers in the world," Peters texted. "Can't is not an option this weekend. You can do it."
Then, Sheils went for a run on the beach to clear her mind.
"That's when I started telling myself 'you're here for a reason' and 'you can do this,'" recalled Sheils. "I don't think I could have done it without my mom. She is there for me all the time and always knows what to say."
It worked. She played her final three rounds in seven-under.
Instead of knowing her exact schedule, she'll rely on Monday Qualifiers at the start of the season. She played 12 last year and qualified twice. Monday Qualifiers provide low odds for all involved, but it's a necessary risk.
"It's a really tough way to go, especially early in the year," admitted Sheils. "There can be 60 to 80 players vying for two spots. It's just a crapshoot as to who is going to get hot for a round. The payout can be potentially big and we have to bet on ourselves."
To be so close and yet feel miles away can be devastating, but Sheils is choosing to keep a positive mindset into the 2018 season.
"I'm feeling positive. Even though I'll have the variables of not knowing which tournaments I'll get into and have to deal with the alternate list, I'm more comfortable and confident this year compared to last when I was a rookie."