CHUN LEADS AFTER 36 HOLES AT STAGE II
VENICE, Fla. — Continuing her consistent play at Plantation Golf & Country Club, Youngin Chun (Gainesville, Florida) fired a 4-under par 68 on the Bobcat Course to snag the 36-hole outright lead in Stage II of the LPGA Qualifying Tournament.
The 2018 Epson Tour rookie is 7-under par overall and holds a one-stroke advantage heading into the third round.
"A lot of people say Plantation is pretty hard, so I just focus on every shot and not the course," said Chun, who recorded five birdies and only one bogey today. "When I get nervous, I think about hitting the fairway, finding the green or putting it near the cup and that makes me more comfortable. Being on top of the leaderboard, I don't want to make myself nervous."
Close behind Chun is a pair of competitors in Sarah Hoffman (Saline, Michigan) and Sandy Choi (Seoul, Republic of Korea). They were No. 1 and No. 2 on the leaderboard after the first round, respectively.

For round three, the entire field is re-paired by score and divided in half. Lower scores are set to play the Panther Course and higher scores tackle the Bobcat Course. Ties were broken by the lowest, most recent round to determine which course an individual will play tomorrow.
Meanwhile, Hoffman went 1-over par this afternoon on the Panther Course to drop into a tie for second. She had two bogeys and only one birdie to shoot 73.
"It's a four-day golf tournament and you have to think of the big picture," Hoffman said. "There was more wind today and I wasn't hitting the ball as pure. Overall, I stayed patient and made some tough up and downs when I put myself in bad positions. It's nice to be able to play the same course in back-to-back rounds and we are going to stick to the same gameplan."

Furthermore, Choi stayed steady with an even par performance as two birdies and two bogeys offset one another.
"I'm happy with where I stand because it was definitely a grind out there today," said Choi, who will join Chun and Hoffman tomorrow at 1:37 p.m. ET in the final pairing off No. 1 tee on the Panther Course. "I hit all the fairways and had some great par saves. I've played well on both courses, so I'll keep that steady approach. It helps that I was in a similar position last year."

After 36 holes, a total of 22 players are at 2-under par or better, with 10 more individuals sitting on the 1-under par mark. Meanwhile, 45 competitors will enter day three at even par or better.
A minimum of the top-25 players and ties will advance to Q-Series, contested from Oct. 22 through Nov. 3 in Pinehurst, N.C. at Pinehurst Resort. Those at the next score, or scores, will also advance provided that the total number of players in Q-Series does not exceed 108, which currently has 62 exempt and entered competitors.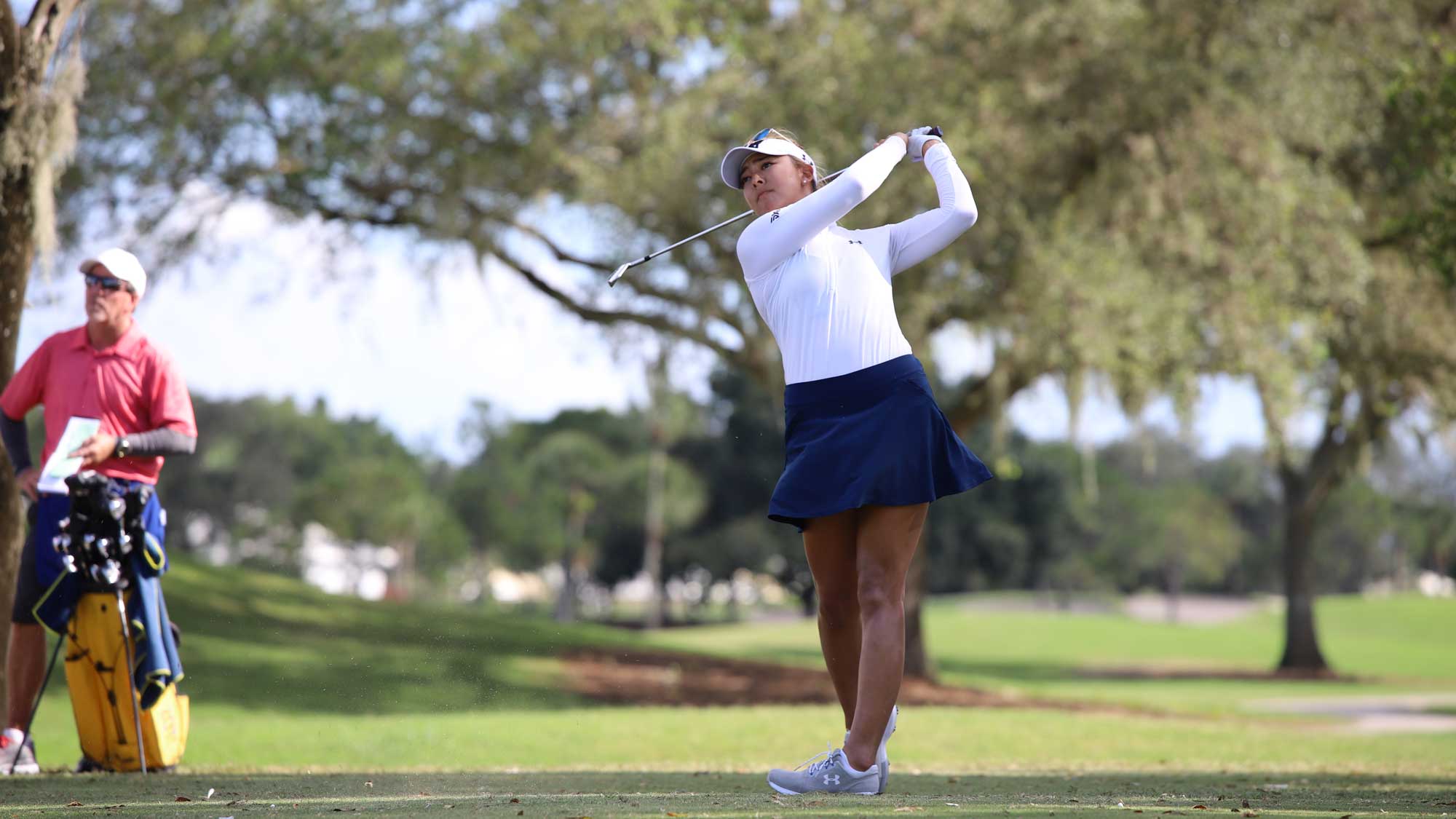 ALISON LEE SHOWCASING LPGA EXPERIENCE
When the 2018 LPGA Tour season began, the last thing Alison Lee (Los Angeles, California) thought of was being at Stage II of the LPGA Qualifying Tournament.
Nonetheless, the four-year LPGA professional is at Plantation Golf & Country Club this week and it's safe to say she is back on track. In round one, Lee turned in a 1-over par 73 showing. Today was a completely different story, however, as the UCLA alumna signed a 5-under par 67 scorecard for the round of the day.
"Being here has been really tough, I never thought I would have to come back to Q-School," said Lee, who earned LPGA status by sharing co-medalist honors at the Final Stage of the 2014 Qualifying Tournament and turned pro after her freshman year at UCLA. "After a round like yesterday I was really disappointed because I feel like all year I have been struggling with my swing and the mental aspect, but over the last couple of weeks I have been finding my form. A day like today definitely boosts my confidence."
A member of the 2015 United States Solheim Cup Team, Lee made the cut in four of her 16 starts this year on the big stage. Even through the rough times, she eventually found a peace and understanding about what was needed to turn things around.
"Four or five tournaments in, even though it was the beginning of the year I just started to freak out, was scared to go play in an event, scared to tee off and just scared for the year," said Lee, who owns a career-best runner-up finish at the 2016 LPGA KEB Hana Bank Championship. "Toward the middle of the season I realized I was just worried about everything that could go wrong in the future. Lately, I had to bring myself to ground zero and think about the positives. I want to accomplish a lot, but I need to accept what is going on and work my way back."
Speaking of the positives, there's a long list for the 23-year-old. She graduated from UCLA last summer and won the inaugural ANNIKA Award in 2014, which is given to the nation's top collegiate female golfer. Lee was also named a Women's Golf Coaches Association (WGCA) All-American in 2014, capturing Pac-12 Player of the Year and Freshman of the Year honors that same year after winning the Pac-12 Championship individual title.
The accolades don't end there and are sure to continue as Lee gains her footing on the right path for the next phase of her golf life.
"It all kind of reminds me what I am capable of and I know the potential is there," Lee said. "I have had a lot of ups and downs throughout my golf career, so I know what it is like to have a rough year. With a clean slate, I can pretend that this is my very first Q-School and show how hungry I am to get my card and start all over."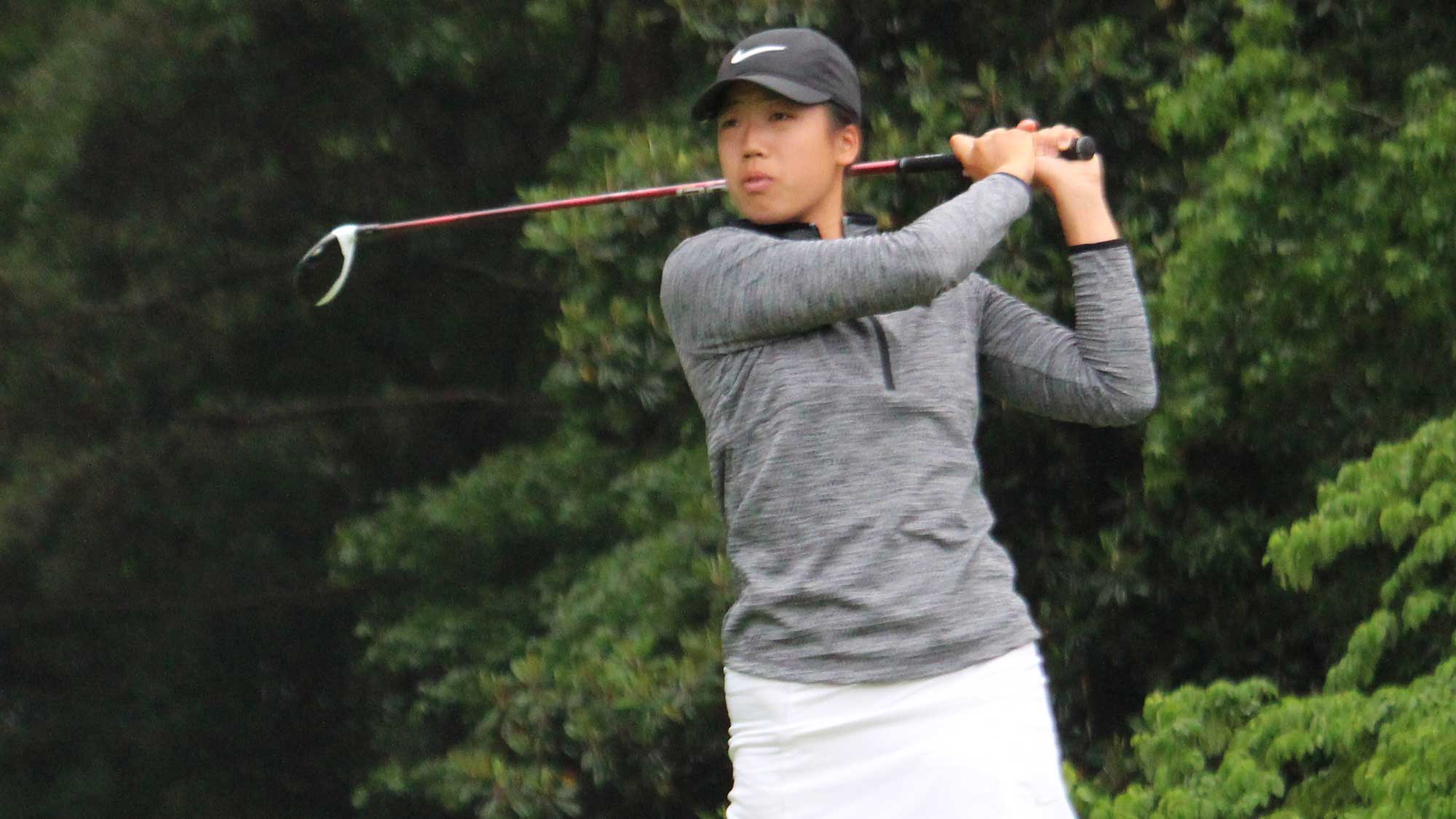 WONG MAKES MASSIVE LEAP
The biggest move up the leaderboard on day two at Plantation Golf & Country Club belonged to Andrea Wong (San Francisco, California) following a 4-under par 68 performance on the Panther Course.
Starting the second round tied for 108th, Wong launched herself into a tie for the 23rd position at 1-under par overall. She is one of 32 players at that mark or better, which is currently safely inside the cut line to advance to Q-Series.
"Key for me was giving myself a lot of birdie opportunities," said Wong, who recorded five birdies and only one bogey. "I hit a lot of greens and made some good club selections that gave me close looks. Overall, I minimized the small mistakes."
Across 14 starts on the Epson Tour this season, Wong made three cuts and her last competitive appearance was the Garden City Charity Classic in Garden City, Kan. at Buffalo Dunes Golf Course. While she has been away from tournament mode, the UC Davis alumna hasn't been away from the grind.
"After Kansas, I decided to head home and work with my team," Wong said. "I worked with my coaches to tune everything up and played against some of the other professionals at my home course [Lake Merced Golf Club]. Really just focused on having quality practice."
With two more rounds to play in Stage II of the LPGA Qualifying Tournament, the strong result today has Wong eager for what is in store.
"It was definitely nice to get a lower number in there because it keeps me in it after 36 holes," said Wong. "Good targets, committed lines, confident swings and solid rolls is my focus. If I do that and avoid mental lapses, I'll be in a great position at the end of the week."
YOUNGIN CHUN SECOND ROUND INTERVIEW
TRENDING ON SOCIAL