Women throughout the history of sports have inspired each other, generation to generation, the future building on the past. Symetra Tour member Kelly Whaley has been raised by inspiration. Her mother, Suzy was an LPGA Tour player, and LPGA Professional and the first female president of the PGA of America. By the same token, Suzy Whaley was inspired by a generation of legends before her.
Suzy started golf when her mom found her leaving their club's pool to swing clubs. Lessons followed and Suzy eventually found her way to life as a student-athlete at the University of North Carolina. Donna Andrews, who would become an LPGA Major Champion and 1994 U.S. Solheim Cup team member was on her team, as was, Kelly Beck who would go onto be the namesake for Suzy's second daughter. There was also an underclassman named Mia Hamm on the soccer team who inspired them all.
"It was four years of great competition," Suzy said. "I was a Title IX athlete, so I was fortunate enough to get a four-year scholarship. But I really didn't have an aspiration to become a professional golfer. I thought I was going to law school. I really enjoyed just being part of the team because in high school it was a boys' team."
Kelly followed her mother to Chapel Hill, where she was a two-time All-ACC Academic Team member, led her team to win the 2016 Cougar Classic and won the 2018 Briar Creek Invitational. Kelly tied the schools individual low-round in competition (6-under-par 66) and competed in two National NCAA Championships. The entire time, her mom's legacy loomed large.
"My freshman year I did feel a lot of pressure," Kelly said. "Her photo is in the practice facility above the water fountain. I had to see it every day. She said, 'You can either put this extra unnecessary pressure on yourself or you can go where you can be your own player.'"
In addition to Suzy, UNC Head coach Jann Mann and UNC assistant coach Aimee Neff also mentored Kelly. "They were so helpful in talking about preparing me for the next steps, what the Symetra Tour would look like and how different it would be from college. They would remind me once you leave college everyone is on their own. You have your friends and you support each other, but you're competing against each other, so you have to stay mentally strong."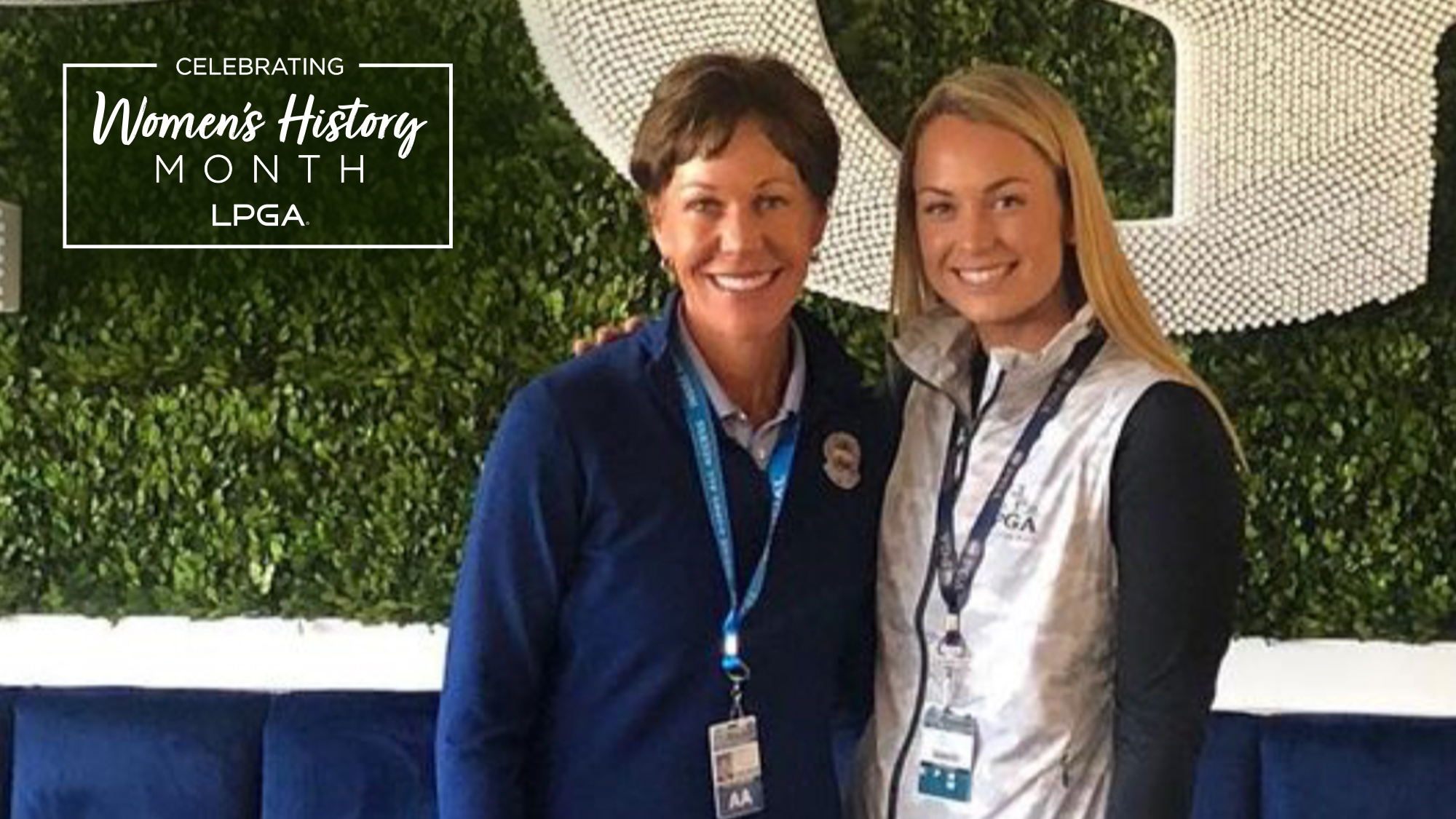 By the time Kelly was in college her mom had a resume for the history books. Suzy was Connecticut's PGA Teacher of the Year in 2004 and 2007, honored by Golf Digest with a Top-5 Female Teacher honor from 2010-13 and named a U.S. Kids Top-50 Teacher. One of her most notable moments came when Kelly was only six years old. That's when Suzy became the first female since Babe Zaharias in 1945 to qualify for a spot in a PGA Tour event. She earned a spot in the 2003 Greater Hartford Open by winning the Connecticut PGA Section Championship.
"I think for me that was really a time where I'm so proud of being part of it, because women's golf for the first time was on covers of magazines. Annika [Sörenstam] was playing, Michelle Wie played that year, I played that year, it was just incredible moment in time where people were talking about women's golf," Suzy said.
"I knew I qualified for that particular event but never expecting them to allow me to take that exemption. It took me three months to decide. Kelly's sister Jenn and I we were reading a book and it was about taking opportunities and taking chances and being brave. Kelly's sister at the time, I think was eight. She looked right at me and said, 'Well why aren't you playing?' I looked at her and I said, 'Well, I'm going to,' and I told my husband that was I was in.
"I wanted to show women and young girls everywhere that if you prepare the best you can, if you surround yourself with amazing people, you need to take opportunities when they come. The outcome can be whatever it might be."
Little did Suzy know how many lives she would touch in the years to come, or how she would inspire her own daughter to play professionally 19 years later.
"My mom always says to be the example for the next generation to come and I think that is the perfect example," Kelly said. "The fact that she played in a PGA Tour event makes me want to work hard to achieve the dream of being on the LPGA. The amount of work that she put into that… It was not just handed over."
They continue to better each other. Last year Suzy finished her two-year term as President of the PGA of America. Her commitment to women resulted in the Inaugural OMEGA Women's PGA Player of the Year Award, continued growth of the KPMG Women's PGA Championship and the creation of the Girls Junior PGA Championship.
She also helped create the Golf Emergency Relief Fund, which donated nearly $8 million to 5,200 recipients across the golf industry and spearheaded the Back2Golf initiative with CDC to re-open golf courses safely and provide golfers with a responsible outlet for entertainment just last year.
Kelly competed her first season on the Symetra Tour in 2020. Many rookies look for advice on how to make the transition to professional golf. For Kelly, the source was her caddie, her coach and her mom.
"It was just fun to share it and have the same experiences," Kelly said. "It was a learning year and having her there to help and support me made it so much better. I'm so lucky to have a parent that has been through it and knows what I'm going through, even if I want to complain about a 10 and she's like well I've made a 13 on Tour. You can never have a pity party for yourself. But she helped me get out of my head. I hope she can come out again this year."