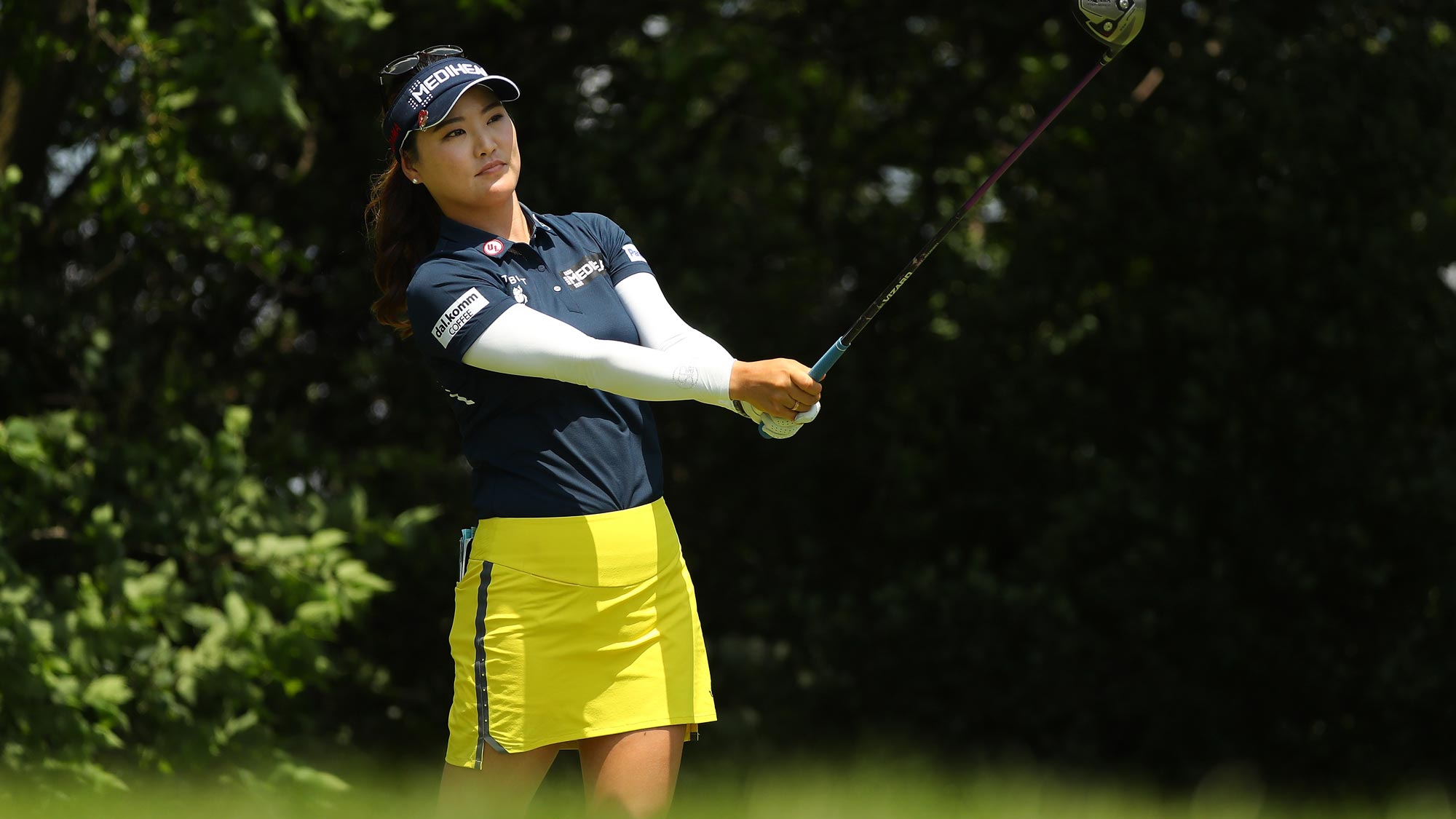 Ryu Takes Three-Stroke Lead Into Final Round
Saturday, So Yeon Ryu rolled in a 15-footer on the 18th hole to take a three-stroke lead into the final round of the KPMG Women's PGA Championship. The difference between two and three strokes? Ryu knows it's huge.
"Two and three is quite a big difference," Ryu told LPGA.com after her round. "It's only one shot but it just feels bigger. It feels quite different."
In the span of three holes, Ryu went from trailing Brooke Henderson by two-strokes to leading by just as many. The birdie Ryu made at the par 5, 11th hole she points to as the critical turning point that altered the course of the championship. Playing 440 yards on Sunday, the hole beckoned for players to go for the green in two. Ryu went long, avoiding the water short of the green and found the bunker behind the green. She got up and down by draining a 15-footer for birdie.
"My third shot was quite a tough bunker shot, so I had to go a little sideways," Ryu said after her round. "And then I was able to make a birdie putting after all. Right now, I feel pretty confident on the putting green, and I think the tournament is all about confidence, then that's the attitude I really want to have for tomorrow, a free mind but confidence."
Saturday, Ryu and Henderson were paired together and shared the 36-hole lead with Sung Hyun Park. While Park and Henderson found early momentum with both making birdie over the first two holes, it took Ryu a little bit longer to find her momentum.
As Henderson pulled away with four birdies over her first 11 holes, she extended her lead to two ahead of Ryu. But Henderson's putter, a new one she put in the bag on Monday, grew cold over the closing stretch. Between holes 13 and 16 Henderson missed a series of birdie and par saving putts that opened the door for Ryu, who capitalized with back-to-back birdies at the 14th and 15th holes to take a two-stroke lead of her own.
Ryu is already a two-time major champion, who won the ANA Inspiration and U.S. Women's Open. Achieving the Career Grand Slam is one of her biggest goals and could becoming closer to reality with a win on Sunday.
"I don't want it to slip away my opportunity. I want to finish strong, but as I said, just better not to expect anything. All I can do is just focus on what I have and just have fun with it."
Henderson closed with bogeys at the 14th and 16th holes to settle for round of 2-under par, 70. She will play alongside Ryu in the final group on Sunday along with Park, who sits at 7-under after a third round, 71.
"Today, I kind of struggled a little bit with my putter, which is disappointing," Henderson said after her round. "I think just kind of get better in my head and just go out tomorrow and made a lot of good shots and see if I can make some birdies, and hopefully they roll in."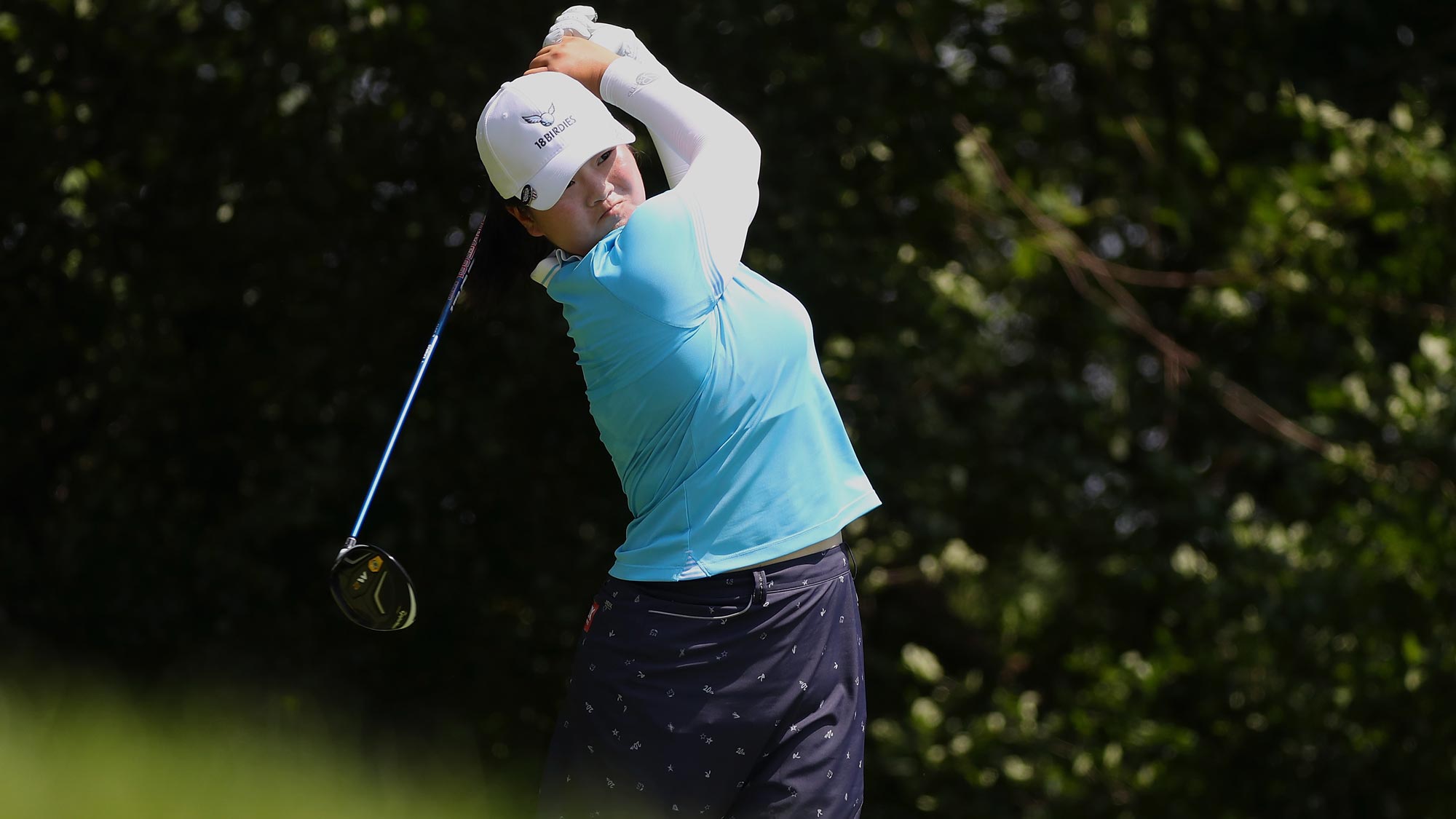 Angel Gets Hot on Saturday
Angel Yin is not only one of the longest hitters on the LPGA Tour, but also one of its biggest personalities.
"How difficult was it?" Yin retorted when asked about playing in the excessive heat on Saturday. "I don't need to say much, you can just look. I'm wearing a skirt. I don't do that. Legs are out. It's hot."
Yin's third round was hot, too. She recorded a 4-under par, 68 for her low round of the week. She was nearly flawless minus a double-bogey at the par 4, 16th hole which came at the entrance to the closing stretch known as "The Gauntlet." Other than the one mistake, Yin was pleased with her round and hopes to repeat it on Sunday.
"I'm just going to go out there and do what I did today, maybe know what I'm doing a little bit more," Yin said. "Maybe finish a little better, not finish with a double, because we don't want that."
The second-year member ranks fifth in driving distance and used her length to her advantage this week at Kemper Lakes. Although she's hit only 18 fairways over the first three days of the championship she's bombed her way to the top of the leaderboard and heads into the final round 4-strokes back of the lead at 6-under par.
"Three back? That's a good attacking position," Yin said when she learned of her spot on the leaderboard. "I like where I am right now. Just need to play well tomorrow. Is it going to be hot again?"
Yes, it will be. And Yin could be again, too.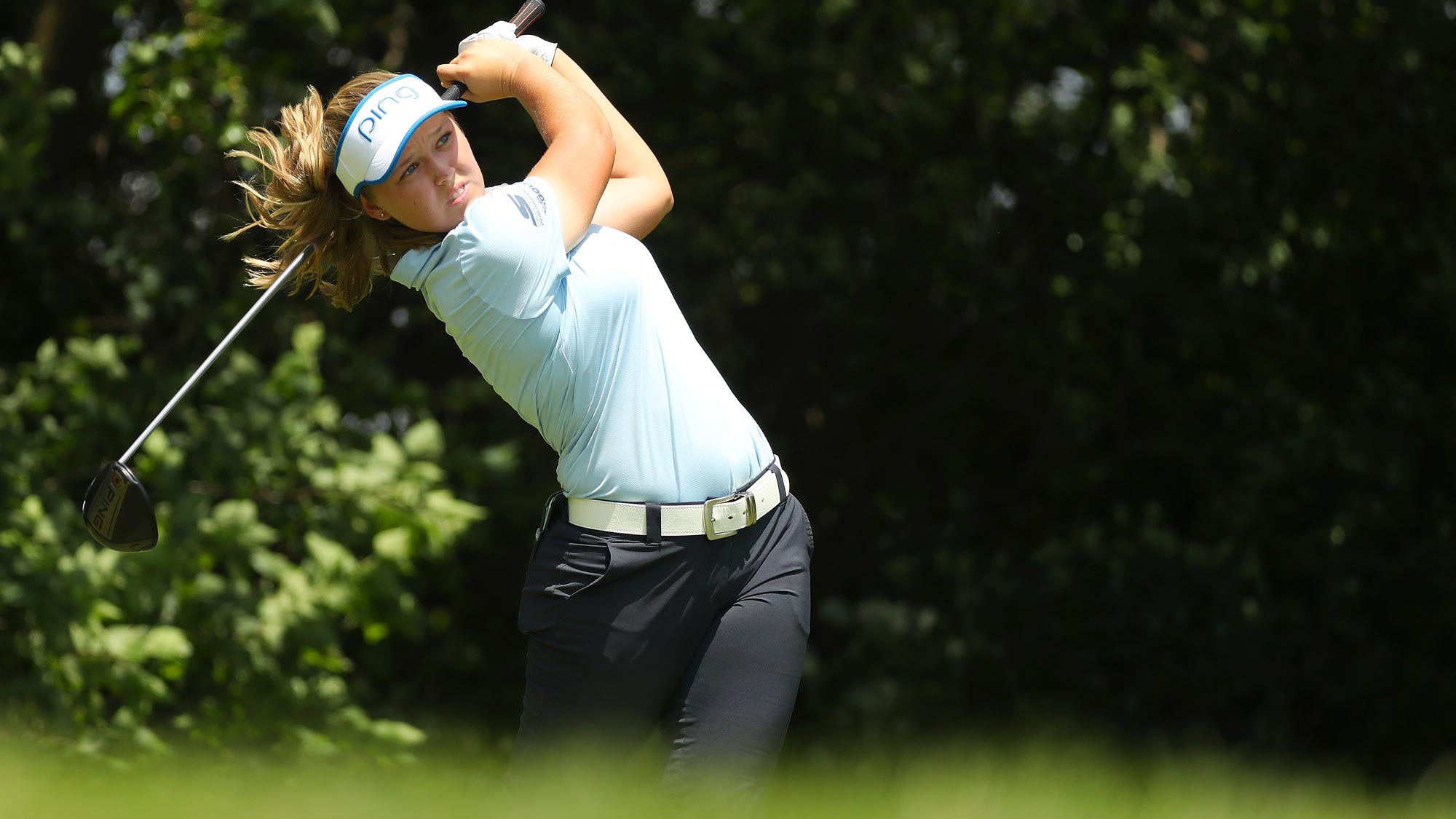 Henderson In The Hunt at KPMG, Again
There's something about a northern golf course, with lots of trees, that brings out the best in Brooke Henderson. Maybe all the trees surrounding Kemper Lakes Golf Club reminds her of the club she grew up playing in Canada. Perhaps she likes the way the PGA of America sets up these northern venues. Or, does Henderson just have a game that's built to contend in majors?
All the above appear to be true as Henderson is in position to win her second major title at the KPMG Women's PGA Championship, which is being staged at Kemper Lakes, a tree-lined course, an hour north of Chicago.
Saturday, the Canadian broke out of a three-way tie at the top with So Yeon Ryu and Sung Hyun Park to lead by as many as two-strokes on moving day. But she backed up on the final stretch with two bogeys on her inward nine to trail by three heading into Sunday.
"I've played so well here before and I've been able to hoist that trophy that will probably be looking at us on the first tee tomorrow, it's a great feeling," Henderson said after her round. "Hopefully I can just put a solid round together, and that's all I can really ask for."
Since 2015, Henderson hasn't finished worse than T5 at the KPMG Women's PGA Championship. In 2016, she won the KPMG Women's PGA Championship when it was staged at Sahalee Golf Club, a venue outside Seattle that's covered with trees. Sunday, she came from two-strokes back to force a playoff with Lydia Ko. Five of Henderson's six victories on the LPGA Tour have come in northern states, the outlier came in New Zealand in 2017.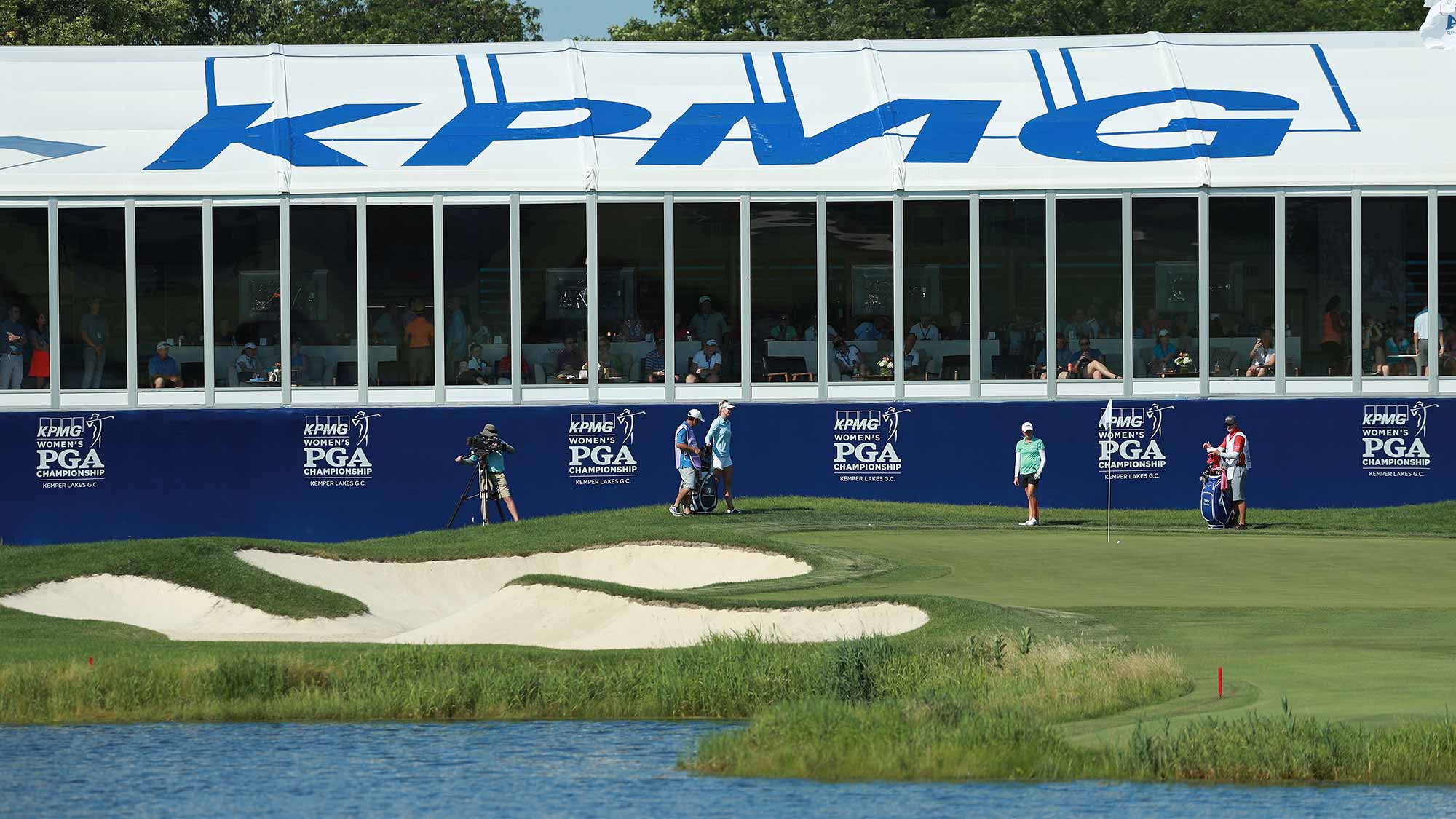 Early Start on Sunday
Due to thunderstorms forecasted for Sunday afternoon, tee times have been moved up for the final round. Groups of 3 will go off both #1 and #10 tees. Tee times will begin at approximately 7:30 a.m. CDT with the final group teeing off around 9:30 a.m. CDT.
The final round will be streamed live on the NBC Sports and Golf Channel apps and digital platforms from 12:45 – 3:45 p.m. EDT.
Coverage will begin, as scheduled, on NBC at 3:00 p.m. EDT.
Trending on Social