Karen Stupples likes to doodle. She always has.
During the Golf Channel analyst's broadcast in Indianapolis, she shared for the first time images of her doodles on Twitter. She draws them during the show. Scattered about the page are a few player names and a handful of statistics. But what jumps off the page are her designs.
The margins are full. On every other line of the page, she scribbled a design. There are circles, stars and even a row of stick figures appearing to hold hands. But what's common on both pages are the vines. Her pen always leaves a vining path that winds around the page.
That week, she used a purple pen. Anytime she's pulled the purple one from her bag of stationary supplies, she says she's had a good broadcast. It's become her lucky pen.
Doodling is often seen as an absentminded way of passing the time, but the exercise is just the opposite for Stupples, who suffers from Attention-Deficit Disorder, commonly known as ADD.
"The doodling helps me concentrate. It's something to do with my hands," Stupples told LPGA.com. "I'm looking at the TV, I'm kind of listening and I need to make comments and I'm doodling. Especially in the commercial breaks, I find I doodle the most."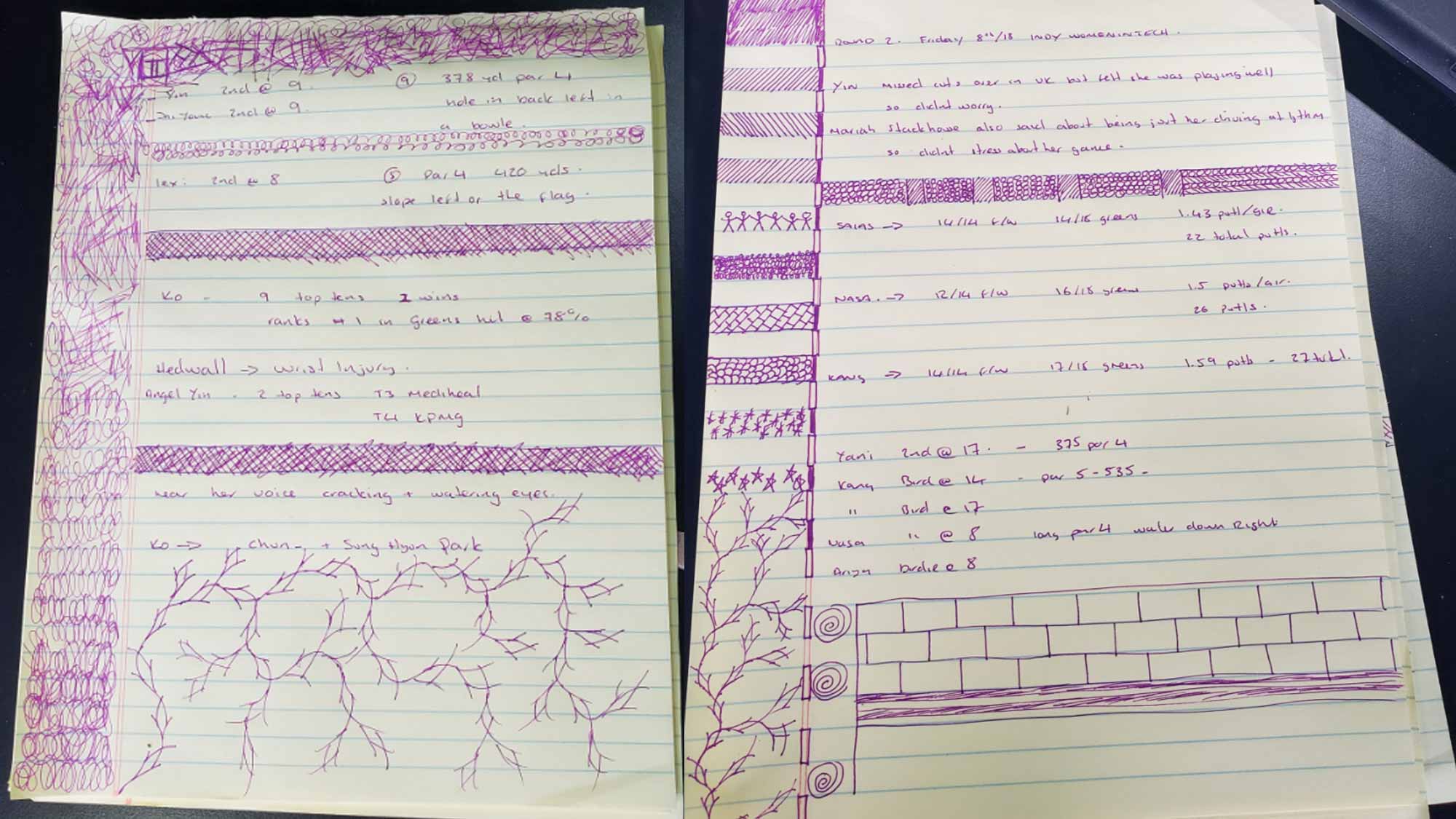 The 45-year-old Englishwoman was diagnosed less than a decade ago and doodling is one way she manages her symptoms.

"I always knew I was hit or miss with my focus," Stupples remembers feeling as a child. "Even when I was playing golf, I was either very good or very bad. I really struggled in school, too."

The two-time LPGA Tour winner and major champion gave birth to her only child, Logan, in 2007. The demands of motherhood created another challenge for Stupples, who struggled to prioritize the growing number of tasks that filled her day. She felt overwhelmed as she tried to achieve perfection in all aspects of her life, including golf. Stupples sought the help of a psychiatrist, who helped her organize her schedule, develop a practice routine and gave her life direction.

"Finding direction on my own was nearly impossible," Stupples said.

She found relief in not only learning how to treat her symptoms, but she also discovered a sense of peace in identifying, for the first time, what it was she had been feeling all her life.

"It's not because I was stupid, and yet, I thought I was stupid for such a long time because of it," Stupples said. "You go along thinking that's how things are and that's really not the case."

That nagging feeling of inadequacy, combined with her drive for perfection, has Stupples constantly seeking ways to improve. Although she's a mainstay on Golf Channel's broadcasts of the LPGA Tour, she's sought other opportunities to further develop her skills. She's a regular contributor to the PGA Tour's streaming coverage and she provided on-course commentary for the BBC's coverage of the Open Championship.

"There's the technique, there's the struggle, there's the effort that goes into it. And I think that the more I garner from covering men's golf, it adds more to what I can bring to the LPGA broadcast."

In her experience covering men's golf, there is a larger focus on the technical aspects of the game, which she would like to incorporate more often in to her analysis of the LPGA. She believes it's important to portray the players as athletes, with less emphasis on their appearance and more focus on their game.

"Ultimately, I want the LPGA to be respected for their golf," Stupples explained. "I want them to be shown in that light. I want people to see the effort and time that goes in to all those players, and it doesn't matter where they come from in the world, they're just great golfers."

To better communicate that message, Stupples is going back inside the ropes.

This week, she returns to the LPGA Tour for the first time since 2016. She received a sponsor's invite to compete in the Cambia Portland Classic at Columbia Edgewater Country Club. She last competed in Portland five years ago, when she needed a bogey on the final hole to make the cut. She made double.

"I hit it in the water of all places," Stupples scoffed.

She's excited at the opportunity to create new memories, because Stupples is a much different player and person today than she was in 2013. Then, she was at the tail end of her playing career, raising a six-year-old and suffering with undiagnosed ADD. She was not enjoying golf. Today, she misses the game and is grateful to have another chance.

"Now, I know exactly what I am and how things are and what I need to do well," Stupples said about her diagnosis. "It's just a chance to go back with a sense of fun and enjoyment, as opposed to dread."

Stupples doesn't have high expectations for the week. She's realistic given her broadcast schedule. She was home three days over the last 11 weeks. But for the past two weeks she practiced nearly every day. She hopes it's enough to make the cut, but it's not the score that matters. Her intention isn't to end the week a better player, but as a better broadcaster.

"If I'm going talk about them, either critically or with praise, I think that I'm in a better position to do so because I've just recently played," Stupples said about covering the Tour. "Ultimately, that's what everybody wants to do is to be better at their job. And I think this will really help."

She won't have her lucky, purple pen in Portland, but she will have her amethyst. It's a gemstone she carries in her bag. It's purple, too. Those lavender hues are calming and so are her designs. Once shy and almost ashamed of living with ADD, she hopes those who are struggling with similar feelings will see her doodles as a source of hope that they can also find answers.

"It has brought a great deal of relief to me as a person knowing that there was a reason for it," Stupples said. "I think any time you can put reason to something, that's always pretty huge."