NICHOLASVILLE, KY – Brittany Lincicome got one last hug from her father, Tom, before she stepped onto the 10th tee, her first hole of the day, at Keene Trace Golf Club. For months she anticipated how nervous she would feel making her PGA Tour debut at the Barbasol Championship. She expected it would feel like the Solheim Cup. Thursday morning, she piped her opening drive 268 yards down the center of the fairway. It appeared Lincicome didn't have any nerves at all.
"I was actually calmer than I thought I was going to be," Lincicome said Thursday. "I thought I was going to be a nervous wreck. After this first tee shot, I was pretty happy that I found the fairway."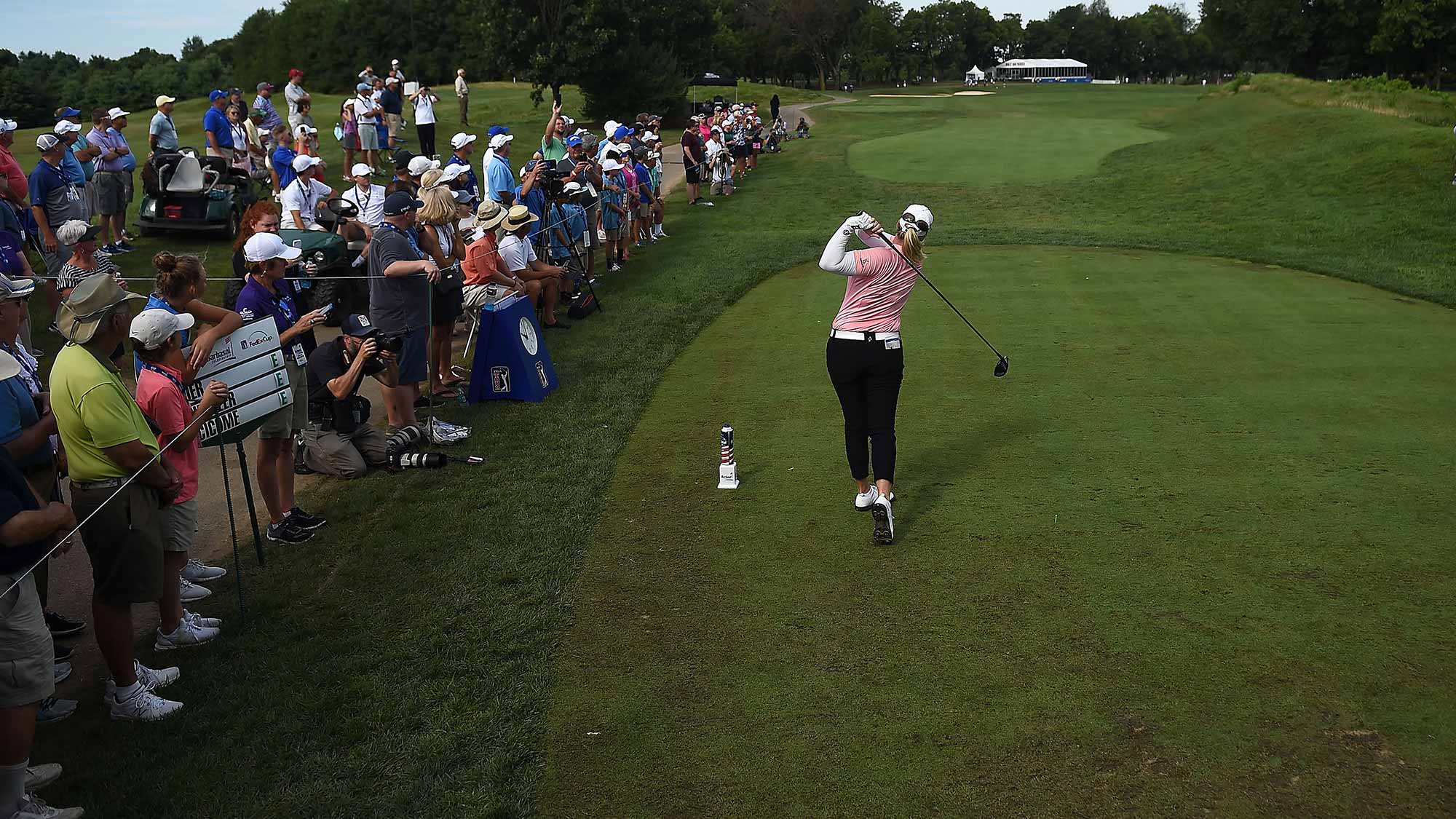 Lincicome carded a 6-over par, 78 in the opening round of the Barbasol Championship, where she etched her name in the record books as only the sixth woman to compete on the PGA Tour. Her score ultimately reflects the tale of two par 3s, which she played in 5-over par. A double-bogey at the par 3, 18th hole and a triple-bogey at the par 3, 7th hole were the only major blemishes on Lincicome's card on Thursday.
"Overall, I did what I wanted to do with having fun," Lincicome said about her day. "Just two bad tee shots on par 3s and didn't hit as many putts as I would've liked. But I drove it well, which was one of my goals."
Grouped with two rookies, Sam Ryder and Conrad Shindler, the two-time major champion settled into her round with three consecutive pars and made just two bogeys over her first seven holes. But after she missed a 4-footer for birdie at the par 4, 17th hole, that disappointment carried over to the 18th hole where she made double-bogey to make the turn in 4-over par.
Lincicome recovered with back-to-back pars to begin her second nine. The highlight of the day came at the par 4, 3rd hole where she rolled in a 29-footer, up and down over two humps to record her only birdie of the day.
"I was just praying it got somewhere near the hole," Lincicome told LPGA.com. "I was like 'oh my gosh' I finally got my first birdie. I was hoping there was going to be a train of more of them but maybe they're coming tomorrow."
At the par 3, 7th hole Lincicome made triple bogey when she failed to reach the green with her second shot. The green was 15-20 feet above her and her chip came up short. When she reached the green with her third shot, her chip rolled out to the fringe on the other side of the green and she three-putted from there.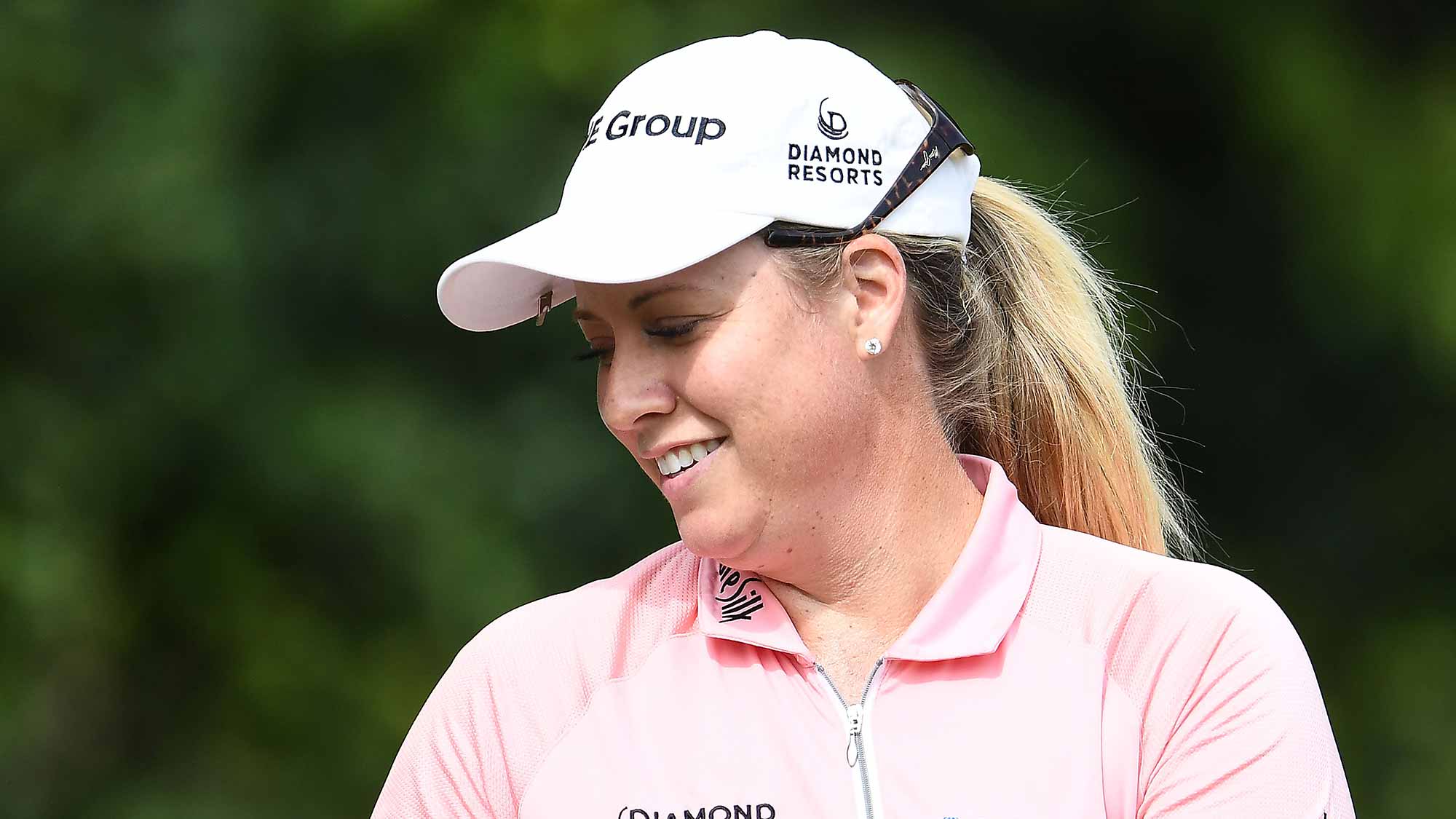 The day was also a learning experience for the 8-time LPGA Tour winner, who enjoyed watching her playing partners. Ryder carded a 4-under par, 68 and Shilling finished at Even par.
"Their putting is amazing," Lincicome said about her playing partners. "Conrad's flop shots are incredible. I want to go to the driving range and see if he will come teach me that shot."
They enjoyed watching her game as well.
"She is a very, very impressive player," Ryder said after his round. "Watching her hit some of the shots she hits, spinning some of those wedges back, how solidly she hits a lot of her irons. She's a very solid player."
The top-70 players, and ties, will make the cut. Click here for current scores.
Friday, tee-times are expected to be moved up 1 hour and 20 minutes due to inclement weather in the forecast. Lincicome was originally scheduled to tee off at 2:59 p.m. ET.