SPILKOVÁ REMAINS IN FRONT THROUGH FIRST WEEK OF Q-SERIES
Midway through the inaugural LPGA Q-Series presented by Blue Cross and Blue Shield of North Carolina, it is Czech Republic player Klara Spilková (-13) on top of the 102-player field with a commanding lead after 72 holes in the eight-round event.
Spilková rebounded after a bogey on the first hole to post her fourth consecutive sub-par round on Sunday at Pinehurst No. 6 and take a four-shot lead over Canadian amateur Jaclyn Lee (-9) into the second week of Q-Series.
Spilková, a Ladies European Tour veteran, said after her round she's trying not to get ahead of herself, but "It's been fun. I hope I can keep going. Play some good golf and enjoy myself."
Five amateurs sit comfortably inside the top-11 through four rounds as Jaclyn Lee (Ohio State) leads the way at 9-under par, with Jennifer Kupcho (Wake Forest) and Lauren Stephenson (Alabama) one behind Lee.
Spilková and Lee are the only players in the Q-Series field who have shot under par in all four rounds. "I've come out here, and I've played golf that I'm happy with so far," Lee said. "I don't want to say it's surprising, but I think that I've played where I should be. It's kind of a nice surprise to be solo second."
Alabama senior Stephenson has steadily climbed the leaderboard every day and heads into the second week of action tied for third after a bogey-free 67 on Sunday. "From the beginning each day I've kind of hit it better and better, and today everything was just really solid," she said. "I don't think I missed too many greens, so it makes it a little easier out here when you are constantly giving yourself good opportunities. Today was a really good day for me."
Q-Series now moves to Pinehurst No. 7 for the final four rounds of the marathon eight-round tournament. The top-45 finishers and ties receive LPGA membership in Category 14 on the LPGA Priority List with the remaining competitors earning Epson Tour status. Round five will begin the second half of Q-Series on Wednesday.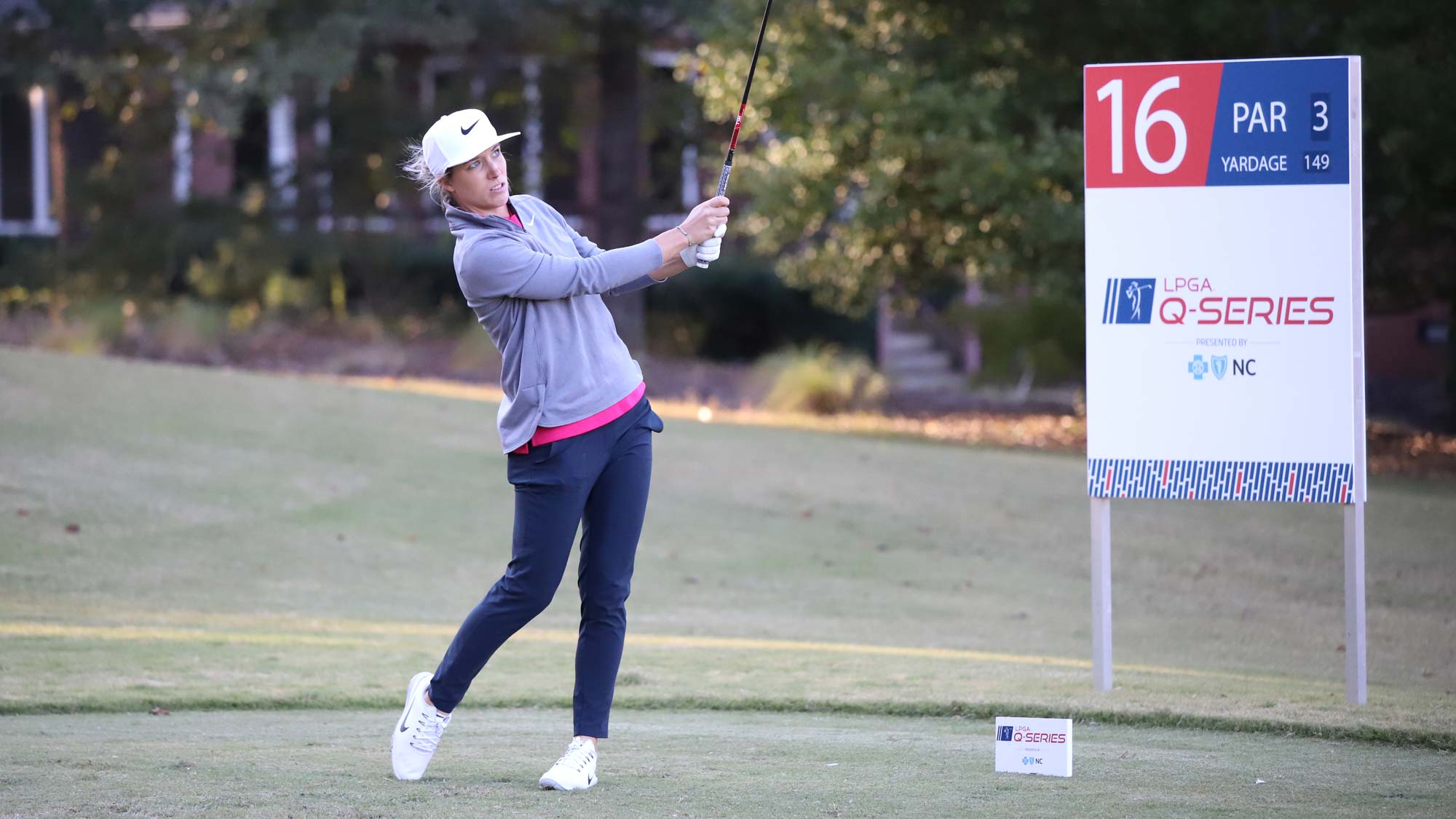 REID READY FOR A FRESH START
Mel Reid's (-8) second season on the LPGA Tour in 2018 didn't exactly go as planned. With seven made cuts in 20 starts, the six-time Ladies European Tour winner switched coaches midway through the season and then had to face the reality of heading back to the LPGA's qualifying tournament. Reid, who hasn't played competitively since the Cambia Portland Classic, isn't looking at Q-Series as a setback, but rather an opportunity to start something new.
"When things go to a certain point, you feel like there's nowhere further down you can go, that's when you rise up," Reid said after a 5-under par 67 on Saturday. "I've been there many times before, you've just got to be brave enough to pick yourself back up again and you've got to believe in yourself. It's never nice coming back to Q-School, but this could be the best thing that's ever happened to me. You've got to look at other people that have come back to Q-School, like Jaye Marie [Green] she's now playing well, Nasa [Hataoka] last year and won [on the LPGA] the following year. It's not the end of the world really coming back to Q-School sometimes."
Reid recently relocated from her native England to Jupiter, Fla., and with new coach Jorge Parada behind her and a new set of Miura irons in the bag at Q-Series, she's feeling refreshed and ready to not only secure her LPGA status, but make a run at the title.
"You have to keep moving forward," she said. "There's no point in thinking about what's lying at 45th. I'm looking at the top of the leaderboard, and I'm trying to catch Klara [Spilková]. While I'm here I might as well try and win it. If you don't keep thinking that way, you drop backwards really quickly."
NOTABLE QUOTES
Klara Spilková (1, -13), on her fourth round 70:
"It was a pretty good day. I made a bogey on the first, I three-putted, which was a shame. I felt a little bit nervous at the start, the first five-six holes I wasn't really in my skin, but then I was fine. I made some good pars, three birdies, I just waited for the birdies on par-5s. Pretty steady round, I'm pretty happy."
Spilková, on her plan for Pinehurst No. 7:
"I will take same [preparation] as this week. Just hit fairways, greens, then two-putt. I hope it works. I'm really looking forward to playing a different golf course, and maybe a little bit different golf. It's going to be fun."
Jaclyn Lee (2, -9), on Pinehurst No. 7:
"I haven't seen No. 7 yet, but I heard that it's a good course as well. It's not that we're starting over next week, but I'm going to kind of view it as starting from day one again. I'm excited to go play that course tomorrow and have a good week."
Mel Reid (T3, -8), on her goal for Q-Series:
"It's a marathon, this new Q-Series. You've just got to not make mistakes and not shoot high numbers. Obviously, I've put myself in a great position for next week. Hopefully we can just try to build on it, and we might as well try and win this thing now."
Reid, on her new coach Jorge Parada:
"He's been an amazing addition to my team. He's really brought something out in me that I always knew was there. He doesn't let you get away with anything and I need that, because I will try and pull like 'oh, I'll be alright' type of a thing and he's not really like that. We've jelled really well. I'm kind of excited now, I've moved to Jupiter [Florida], which is a big thing that I've never really had the courage to do, and I'm really enjoying it there. Hopefully it's a fresh start."
Lauren Stephenson (T3, -8), on feeling confident despite never playing Pinehurst No. 7:
"At the beginning of the week, I wasn't too sure where my ball was going, and I was a little shaky with my swing. To get to today and feel confident with my swing, I just know where the ball is going and you can take that to any course."
Stephenson, on being ready to compete at the next level:
"I definitely think the most important thing is confidence, and if you believe that you can play out here with all the other professionals then you can play. It's definitely given me more confidence to see my name more toward the top of the leaderboard, so everything I'm going to take out of these two weeks is all positive."
PLAYER NOTES
Klara Spilková (1, -13)
Spilková, 23, is from Prague, Czech Republic and has played on the LET since 2011
When Spilková earned LET membership as a 16-year old, she was the youngest member in history
In 2017, Spilková became the first Czech winner on the LET with a win at the Lalla Meryem Cup where she beat Suzann Pettersen; there has never been a Czech winner on the LPGA
Spilková represented the Czech Republic at the 2016 Rio Olympics, finishing T48
She has made 16 career starts on the LPGA Tour with a career-best T50 finish at the 2018 Ricoh Women's British Open
In 2018, Spilková is ranked seventh on the LET Order of Merit with a season-best runner-up finish at the Lalla Meryem Cup
Jaclyn Lee (2, -9)
Lee, 21, is from Calgary, Canada and is a senior at Ohio State majoring in finance
In 2018, Lee was named a WGCA Second Team All-American and represented the Buckeyes as a First-Team All-Big Ten selection
As a junior, Lee collected three wins in collegiate competition and has already notched one win this season at the East & West Match Play Challenge in September
Lee has made four career starts on the LPGA, including a T35 finish at the 2018 Meijer LPGA Classic where she was a sponsor's invite
Lee is a member of the Canadian National Team
Mel Reid (T3, -8)
Reid, 31, is from Derby, England
Reid joined the Ladies European Tour in 2008 and was named the Rookie of the Year
She has six career wins on the LET, and 56 career top-10 finishes
In 2018 on the LPGA, Reid made seven cuts in 20 starts with one top-10 finish
Reid finished in a tie for eighth at the 2016 LPGA Final Qualifying Tournament to earn Priority List Category 12 status for the 2017 LPGA Tour season
Three-time European Solheim Cup team member (2011, 2015, 2017) with an overall record of 4-3-1
Member of Team England in the 2016 UL International Crown, posting a 2-2-0 overall record
Lauren Stephenson (T3, -8)
Stephenson, 21, is from Lexington, S.C. and is a senior at Alabama
Has made two starts on the LPGA, at the 2016 and 2017 U.S. Women's Open, with a career-best T41 finish in 2017
Played on the 2018 U.S. Curtis Cup and Palmer Cup Teams
Named the Golfweek Player of the Year in 2018
Held the No. 1 ranking in the Golfweek/Sagarin College Rankings at the end of the 2017-18
Won the Golfstat Cup in 2018 as the nation's leading scorer with a school-record 69.76 average
Jennifer Kupcho (T3, -8)
Kupcho, 21, is from Westminster, Colo. and is a senior at Wake Forest
Has expressed her intentions to stay at Wake Forest and defer LPGA membership if she finishes inside the top-45
Won the 2018 NCAA individual championship title; the first wire-to-wire NCAA Champion since 2002
Played on the 2018 U.S. Curtis Cup and Palmer Cup Teams
Has made three career starts on the LPGA, including two top-25 finishes (T16, 2018 Marathon Classic; T21, 2017 U.S. Women's Open)
Sarah Schmelzel (T3, -8)
Schmelzel, 24, is from Phoenix, Ariz.
Made cut in 18-of-21 starts on the Epson Tour in 2018; her second season on the Tour
Had seven top-10 finishes on the Epson Tour in 2018; in her last five events, she had four top-five finishes to finish 13th on the Official Money List
In 2018, she missed out on finishing inside the top-10 on the Epson Tour's Money List and earning her LPGA card by just $2,584, but earned a spot in the inaugural LPGA Q-Series
Schmelzel earned All-America Honorable Mention while at University of South Carolina and was a 2016 Golfweek All-American
QUICK HITS
Five of the 11 amateurs— Jaclyn Lee (Ohio State), Kristen Gillman (Alabama), Maria Fassi (Arkansas), Jennifer Kupcho (Wake Forest), Lauren Stephenson (Alabama)— are inside the top-45 following the fourth round.
Of the players inside the top 45, 21 would be rookies on the LPGA.
13 different countries are represented by players inside the top-18.
2015 LPGA rookie Alison Lee had the round of the week on Sunday at Pinehurst No. 6, as she was bogey-free with an ace on 16 for a 7-under par 65. Lee clawed her way up the leaderboard, starting the day T87 and now heads into the final week T23.