Click for Groups and Tee Times for the Opening Rounds
*All tee times are local
Lexi Thompson, Brooke Henderson, So Yeon Ryu- 10th Tee, 12:59 P.M.
Three past champions are paired together just a minute shy before 1:00, with all three hoping to become the first multiple time champion of the Meijer LPGA Classic for Simply Give.
If you were to pick one to come out on top based on recent play, look no further than Lexi Thompson. As written last week, Thompson hoped to remain near the top of her up and down season. She did just that, backing up a second-place finish at the U.S. Women's Open with a victory in New Jersey. The now seven-consecutive year winner on the LPGA Tour has an opportunity to do something she has not done yet on tour: win back-to-back weeks. She's got the pedigree at Blythefield Country Club to back it up, as Thompson has finished in the top 10 at the event for four consecutive years dating back to her victory in 2015. She finished tied for fourth in 2016, tied for second in 2017, and tied for ninth in 2018. Over the four-tournament run at the Meijer LPGA Classic, Thompson has only shot in the 70s twice, with three rounds of 64 highlighting her dominant run.
Brooke Henderson just missed cracking the top 10 at the Shoprite LPGA Classic presented by Acer, finishing T11 last week. That narrow miss would have separated Henderson from the pack in leading the Tour in top 10 finishes. She's currently tied with Nelly Korda, Azahara Munoz, and Jin Young Ko with six. The 2017 Meijer LPGA Classic champion looks to return to her 2017 form there, with a scorching 63 in the opening round of her victory. She closed out her victory with a 66 to overcome Lexi Thompson's one-shot lead. Her 2018 performance was her worst at the tournament at T44, but the Canadian stayed in contention for a top 10, sitting in 20th after the third round.
So Yeon Ryu returns to defend her title coming off a T2 finish at the U.S. Women's Open. After her victory last year, as she explained to Ron Sirak on LPGA.com, she donated $100,000 to Simply Give, Meijer's Charity and her rallying cry for the week. That rallying cry may be heard once again, as Ryu has three top six finishes at the tournament. She finished in 4th in 2015, 6th in 2016, and her victory last year. The six-time winner closed with a (-5) 67 to finish at (-21) last year, the tournament record.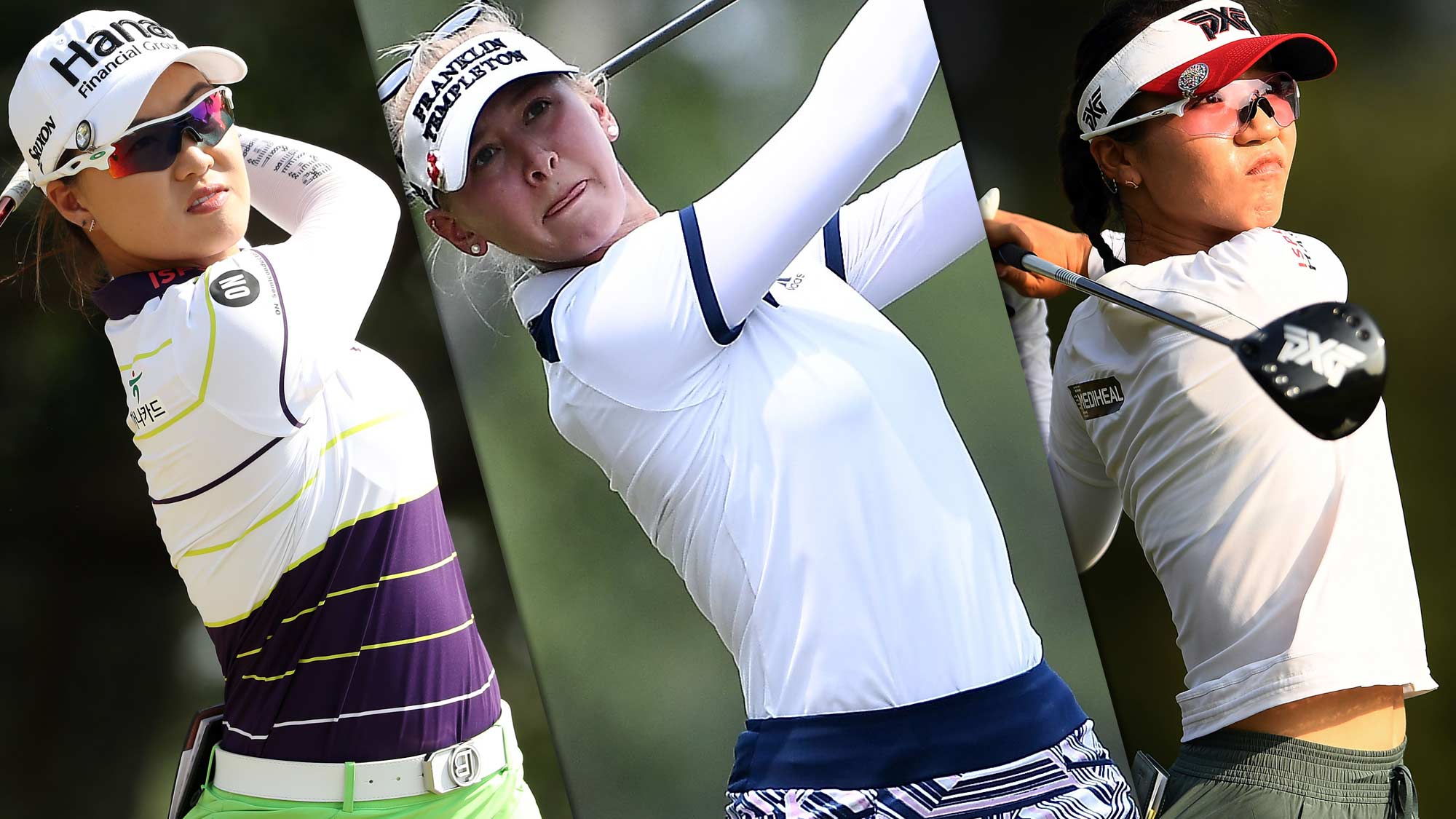 Minjee Lee, Jessica Korda, Lydia Ko- 1st Tee, 7:59 A.M.
The Rolex Women's World Rankings No. 2 golfer rolls into Michigan with consistency. Lee has finished in the top 15 in her last five tournaments including her victory at the HUGEL-AIR PREMIA LA Open. The last time she teed it up was at the U.S. Women's Open, finishing T12 at (-1). Lee returns to the Meijer LPGA Classic for the first time since 2016, where she finished T25. Lee came out of the gates strong, posting a 67/67 over the opening two rounds to sit in the top 6 heading into the weekend.
Jessica Korda enters Grand Rapids with her seventh start of the season. Korda charged out of the gates to open the season with a tied for second and tied for sixth finish at the Bank of Hope Founders Cup and ANA Inspiration. After missing two cuts, she has since regained that opening season form with a T13 and T10 finish at the Pure Silk Championship and the U.S. Women's Open, respectively. Korda last played at the Meijer LPGA Classic in 2017, where she was as consistent as could be. She carded a 68 in all four rounds, finishing at (-8) for the tournament.
Lydia Ko enters the Meijer LPGA Classic off a T39 effort at the U.S. Women's Open. Ko was showcasing her game in the month of March, with three top 15 finishes highlighted by a T8 result at the Bank of Hope Founders Cup. She returns to Grand Rapids where she has played well, finishing in the top 15 in all four of her starts, including two top five finishes. Her best result was last year, where she finished in 3rd place after finishing the tournament with three consecutive rounds of 67. Ko's (-18) was her best tournament score of her 2018 season.
Shanshan Feng, Nelly Korda, Jeongeun Lee6- 10th Tee, 1:10 P.M.
Shanshan Feng came into the U.S. Women's Open with a pair of top 15 finishes, with a T15 result at the LPGA MEDIHEAL Championship and a T13 performance at the Pure Silk Championship. While she missed the cut in Charleston, Feng has historically played well at the Meijer LPGA Classic. She's played three times in Grand Rapids, finishing in 8th, 7th, and T17 in 2014, 2016, and 2017, respectively. She sat a shot off the lead behind Brooke Henderson after the first round in 2017, carding a tournament low 64.
Nelly Korda has slowed down after a scorching start to the season, where she finished in the top 10 for five straight tournaments to begin the 2019 season. She finished T39 at the U.S. Women's Open last week but has an opportunity to right the ship at Blythefield Country Club, as Korda has a top 10 to her name in Grand Rapids. She finished T9 last year, with a 66 on Sunday to move her from 18th to her final spot. This will be the third time she tees it up at the Meijer LPGA Classic, with her first appearance in 2017 at T43.
Jeongeun Lee6 makes her debut at the Meijer LPGA Classic in red hot fashion, finishing in the top two in three of her last four events. Her eagle bid on the 72nd hole to get into the second playoff of her rookie LPGA season just missed above and left of the cup at the Shoprite LPGA Classic last week. Lee6 is showing no signs of slowing down. She has started in every event of the LPGA's 12 consecutive tournament stretch so far, making it four weeks in a row teeing it up in Michigan.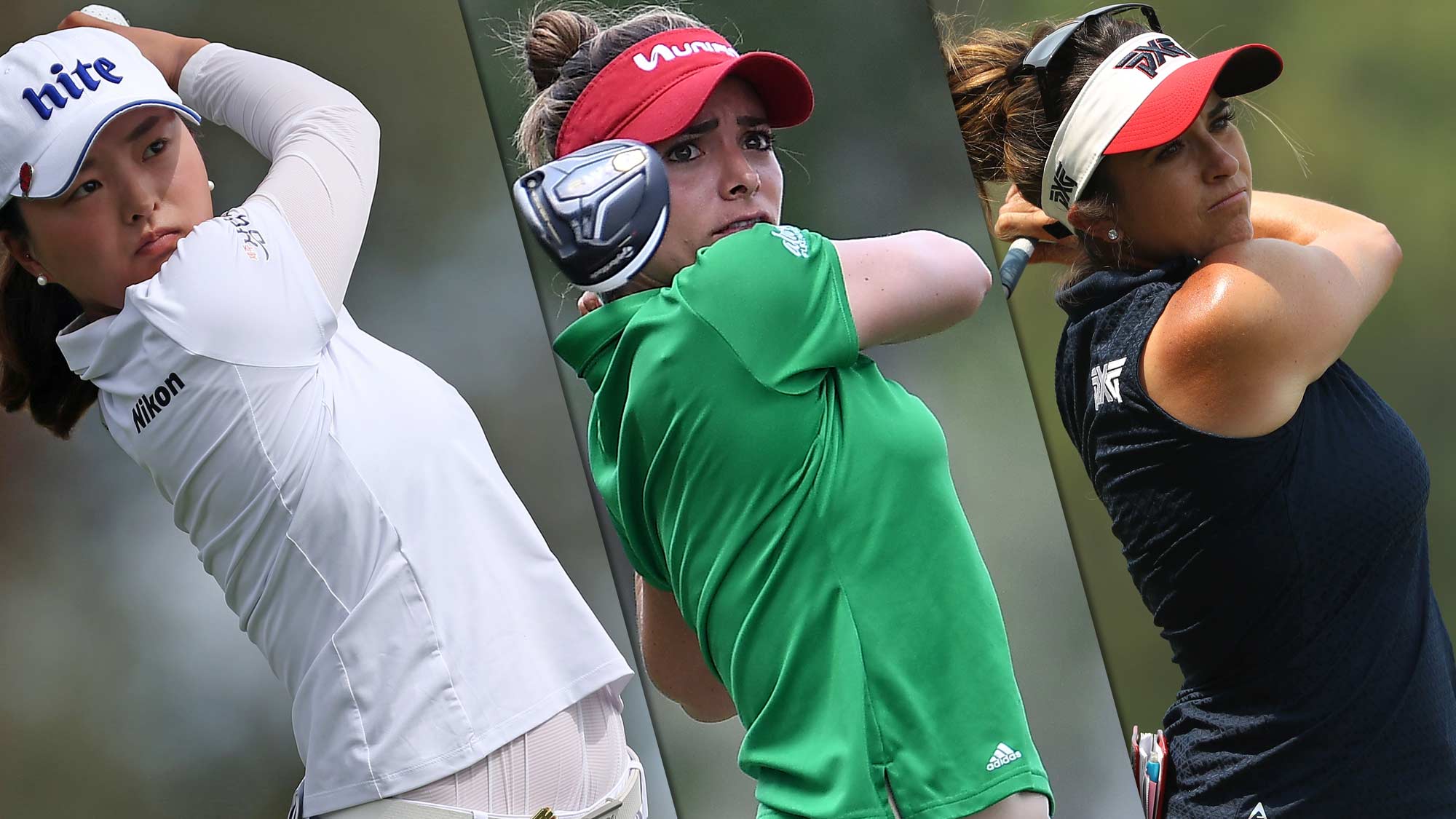 Jin Young Ko, Gaby Lopez, Gerina Piller- 1st Tee, 8:10 A.M.

The No. 1 golfer in the world is once again set to let it fly at the Meijer LPGA Classic, where she finished T13 last year in her only performance last year. Her result was like a straight in poker, shooting a 70 in the first round to a 67 in the final round. The T13 finish would fall right into line with how well Ko has played this season, as she's holding a firm lead on the season awards this year.

Gaby Lopez comes to Grand Rapids after making her 100th career start at the U.S. Women's Open, where she finished T30. Lopez had a strong month of April, where she had two top 5 finishes at the LPGA LOTTE Championship and the HUGEL-AIR PREMIA LA Open, along with a T7 at the end of March at the Kia Classic. It's the first career appearance for the 2016 rookie at the Meijer LPGA Classic.

Gerina Piller has found her footing after taking the 2018 season off for maternity leave. She finished in a T5 at the U.S. Women's Open, her best career result in a major. It was her best finish since a T5 in September of 2017 at the Cambia Portland Classic. She followed it up with narrowly missing a top 25 at the Shoprite LPGA Classic, finishing T26. Piller finished T2 at the 2015 Meijer LPGA Classic, one of her three career T2 results as she is still eyeing her first career victory.