One of two players from the Golfweek/Sagarin College Rankings in the 185-player field for Stage II of the LPGA Qualifying Tournament at Plantation Golf & Country Club is Frida Kinhult (Fiskebackskil, Sweden), a sophomore at Florida State University and three-time tournament winner for the Seminoles.
She is joined by Albane Valenzuela (Geneva, Switzerland) in starting the Q-School process in southwest Florida rather than Q-Series, a change from 2018 when the top five college players received a free ride to the final stage at Pinehurst Resort. Regardless, Kinhult knows it's not how you get there, but what you do with the opportunity.
"For me, kind of sucks because it's obviously better to get to Q-Series," said Kinhult, winner of the 2017 and 2018 Spanish Ladies Amateur Championship. "From last year, I get that some professionals probably don't like amateurs coming in taking spots. At the same time, I saw Maria Fassi, Jennifer Kupcho and all of them do pretty good, earning their Tour card and had some good starts this year. I hope the rankings show that good amateurs can do well out there. The standards are high at the top of amateur golf. I see the point from both sides."
That elite level is driven by the fact that golf is a family affair for the former No. 1 in the Women's World Amateur Golf Ranking. Her father Mikael is a golf professional and on the bag this week. Meanwhile, it's no secret a healthy, competitive relationship exists with older brother Marcus, a European Tour pro.

"The best part was he only reached No. 2 as his best and I'm not No. 1 right now, but I can always say I had that for a bit," Kinhult said. "We're both very competitive and the whole family is too, so we can go out and compete against each other. Maybe give dad 3-4 shots per round, but he can still handle the golf course. Just having the whole family interested in the process is very nice. Since my brother turned pro right after high school, he's been learning from me and I can learn from what he's done."

Named the 2019 ACC Freshman of the Year, Kinhult also shared 2019 ACC Player of the Year honors with Kupcho. Furthermore, Kinhult claimed Women's Golf Coaches Association (WGCA) Freshman of the Year and First Team All-American last season as well. A stroke average of 70.66 in her freshman campaign is also the lowest single-season mark in program history.
As she turns attention to the Bobcat Course and Panther Course, Kinhult is focused on earning a good result to jumpstart the next stage of her golf career.

"If I do alright and gain status, I'll turn pro," said Kinhult. "I don't want to put out a special number, but if I do get a category where I can play on either the Symetra Tour or LPGA then I'll go for it. I told Coach [Bond] early when I visited in 2016 that I might not be interested in four years of college. She was totally fine with it and always wanted the best for me. It was an easy choice to attend FSU and the experience has been super great. Even if I turn pro, I can still practice with the team and be around the facilities."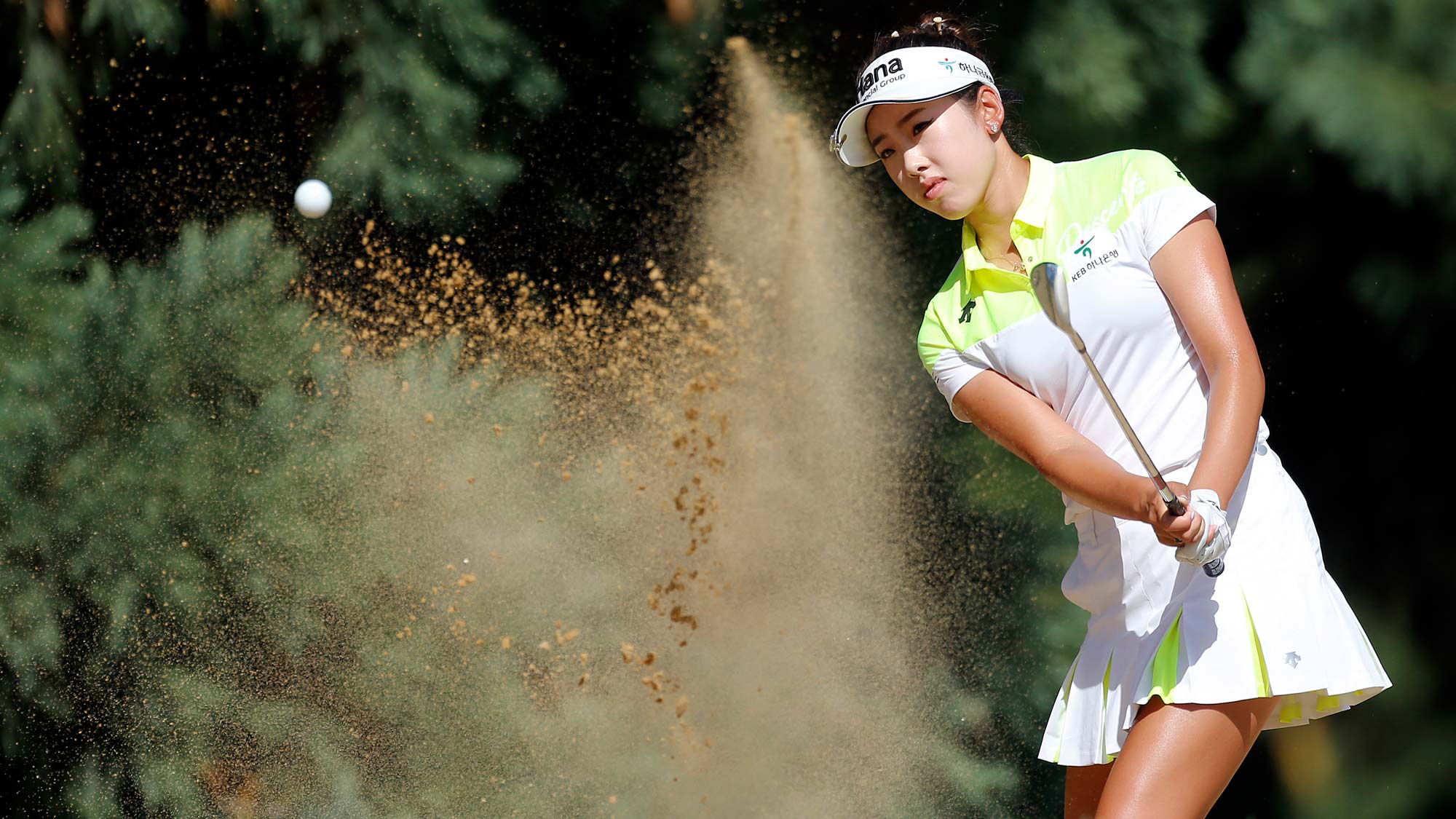 NOH ENTERS STAGE II WITH CONFIDENCE AFTER QUICK RISE
For starting the 2019 calendar with no status on the Symetra Tour and LPGA Tour, it sure was a quick rise for
Yealimi Noh
(Concord, California). The 18-year-old is currently inside the top-400 of the Rolex Women's World Golf Rankings at No. 104, which allowed her to bypass Stage I and go straight to Venice, Fla. for Stage II of the LPGA Qualifying Tournament.
She opened the season competing in two Symetra Tour events as a tournament sponsor exemption at the IOA Championship presented by Morongo Casino Resort & Spa and Windsor Golf Classic. Noh then followed those appearances with a seven-stroke victory on the Women's All Pro Tour (WAPT) in May at the Bravado Wireless Real Okie Championship.
"The beginning of the year was kind of hard for me, not having anywhere to play and not doing that well in the tournaments I did get into," said Noh, who made her pro debut at the 2019 Taiwan Women's Golf Open. "It got better over the summer, once I finally got into a LPGA event. My game was in a good place, felt confident and played well. Every time I got in through a Monday qualifier, just had no expectations for the week because I didn't have that pressure and was able to play my game comfortably."
A whirlwind run on the big stage got underway when Noh Monday-qualified for the Thornberry Creek LPGA Classic in early July. She ended tied for sixth at 23-under par which included a 32-hole, bogey-free streak. From there, Noh competed in the Marathon Classic presented by Dana, The Evian Championship and CP Women's Open, all as a tournament sponsor exemption.
Her performance at the Cambia Portland Classic after Monday qualifying really turned heads, however. Noh held the 54-hole advantage by three at Columbia Edgewater Country Club, but a 1-under par 71 in the final round left her one-shot back of winner Hannah Green. A victory would have given Noh a LPGA Tour card. Instead, she earned the respect of competitors and let the golf world know she'll be back.
"It sucked to get second, but I got over it and learned," Noh said. "At first, I told myself it was a learning experience and that one day it would help in the future, even though I was just upset. I'm glad I had that experience. I've done a lot more than I thought I would and think I proved I have what it takes to be out there, even contend. It was a lot to take in over a short time, but hopefully can take it with me into next year with full status. I want to go through Q-School and prove that I can officially make it."

The three-time American Junior Golf Association (AJGA) champion arrives in southwest Florida fresh off a tied for 12th showing at the Hana Financial Group Championship last Sunday. A similar effort will be required this week as a minimum of the top-30 players and ties will advance to LPGA Q-Series contested from Oct. 23 to Nov. 2 in Pinehurst, N.C. at Pinehurst Resort. Those at the next score, or scores, will also move on provided the total number of players in Q-Series does not exceed 108 which currently has 60 exempt and entered competitors.

"I feel a lot more confident and the No. 1 player in the world was there, the whole KLPGA is strong," said Noh. "After a really rough first day, being under so much pressure and also my sponsor's event, it was a crazy week that will help me to play well with expectations. Placing high among all those great players got me ready to just play my game and I know if I do that, I can make it to Q-Series."