Jessica Korda became a serious fan of viral golf sensation and college golfer with Down syndrome Amy Bockerstette ever since January's Waste Management Phoenix Open video hit social media.
So at the Bank of Hope Founders Cup this March, Jessica was intent on meeting her.
Korda looked all week for Amy.
No luck.
Until the eleventh hour.
As Jessica walked from the 71st to the 72nd hole Sunday she began shaking hands with the group of LPGA-USGA Girls Golf Program members assembled there and was ecstatic to find Amy among them.
"I was like 'Amy, I've wanted to meet you so badly'," Jessica said.
This moment was a long time coming, and Jessica felt compelled to ask Amy for a hug. Amy happily obliged and then did her new friend one better. She told the LPGA star 'You got this Jessica!'
Jessica responded emotionally.
"I literally started crying," Jessica said. "I said 'thanks Amy, I've got this'."
Nevermind that she was about to polish off her best round of the season--an 8-under 64--to capture her best finish of 2019--a tie for second with sister Nelly--one stroke behind winner Jin Young Ko.
The two stayed in contact, then Sunday night of the U.S. Open happened with Amy finally meeting Jessica's good friend Michelle Tesori in person after Michelle (who also has a child with Down Syndrome, 5-year-old Isaiah) had reached out to Amy's mother Jenny in January. The Bockerstette's were in the Ponte Vedra Beach area because Amy's father Joe was being honored by Golfweek with a Father of the Year Award. As it happened, the families planned in May to meet at an area restaurant on Father's Day.
Once it became apparent Gary Woodland would have a chance to win Sunday, all parties knew Amy would want to see and hear that.
So the Bockerstette's asked Michelle if she was comfortable hosting, with husband Paul out of town working at Pebble.
That was a no-brainer. Of course she was.
After ordering in Mexican food, Michelle put her son Isaiah down to sleep around 8 p.m. Eastern time, two hours before Woodland would win the U.S. Open and the iPad video they placed on the family room TV would capture their group celebration.
The five-time LPGA Tour winner was texting with Michelle before the finish Sunday night. The two have been close friends since 2016 through charity events.
Jessica got a photo texted to her of Amy in the living room sitting next to Michelle on the couch.
She couldn't believe it.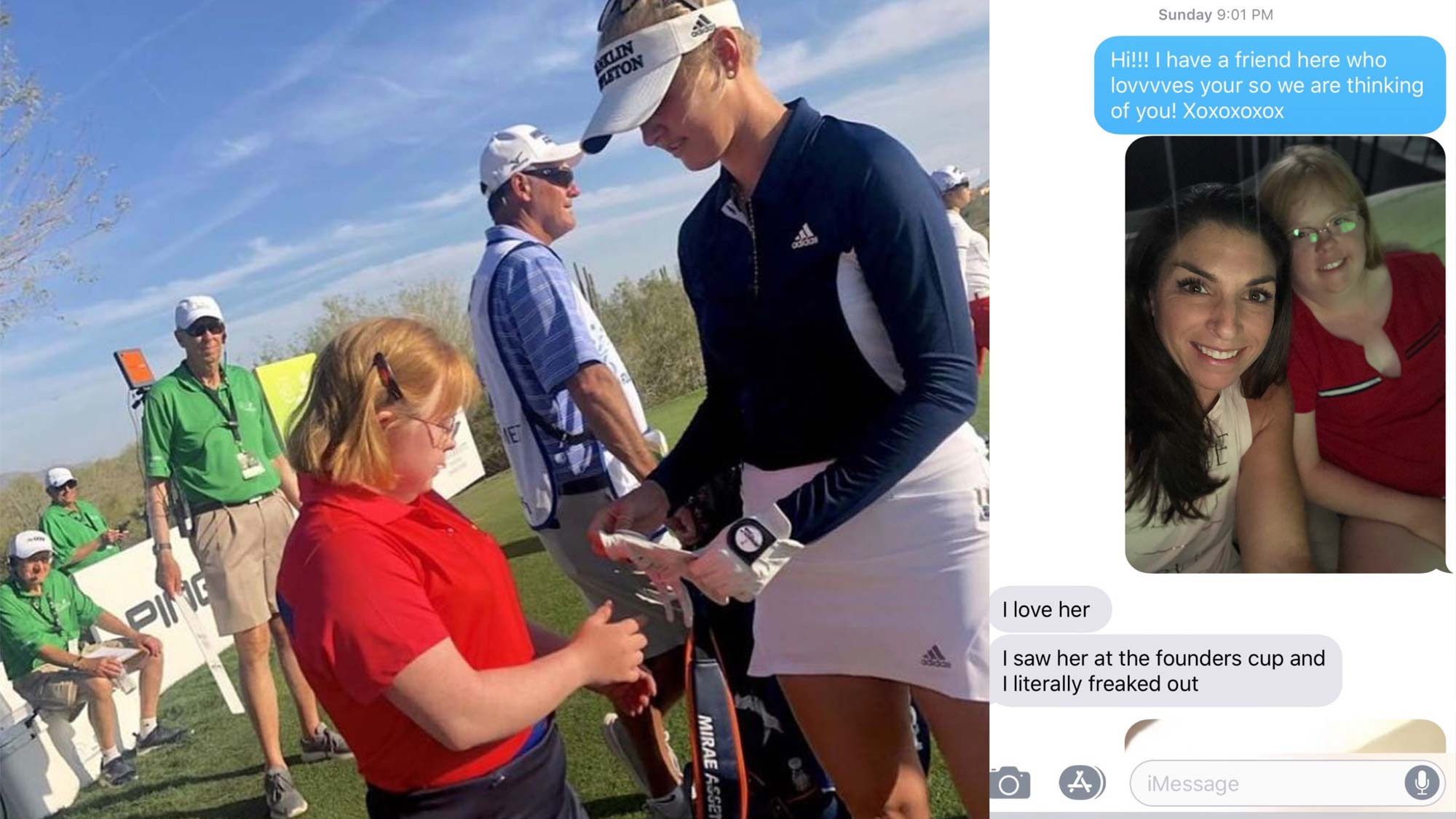 Next thing you know a FaceTime call came in to the 26-year-old's phone from Michelle and Amy.

Jessica felt thrilled to be a small part of Amy's big moment, just minutes before Amy's good friend Gary broke through at the U.S. Open.

"Amy, are you watching? How cool is this?" Jessica asked Amy on FaceTime.

"Yeah, I'm so excited," Amy said.

The entire night was an exciting one for Amy, and who could blame her? She ended up re-uniting with Jessica and the U.S. Open champ who thanked her for her "positive vibes" during his own FaceTime with Amy from the Media Center.

The only thing Amy missed in a night where her dad Joe said she "could have stayed up all night" was a poignant moment between her mom and Michelle as the two mothers made a special bond.

"I said 'hey Jenny, this is amazing' and she said 'Michelle, Isaiah is an incredible young man' and I said 'Oh my gosh thank you so much but you guys...' and Amy was sitting with us," Michelle said. "I said 'Amy I've got to tell you, I know you get tired of hearing this from your mom but do you know that your mom and I would pick you and Isaiah every time, every time we would choose you.' And I'm crying and Jenny's crying and Amy goes 'stop talking, Gary's on TV,' and she was right. Gary was on TV," Michelle laughed.

For Jessica, the fun exchange with Amy made watching the U.S. Open that much more special.

And for Amy, catching up with her friend she made at the Founders Cup was a nice feeling.

"It was so cool to FaceTime with Jessica," Amy said. "She's incredible."

Many in the golf world would use the same word to describe the Paradise Valley Junior College women's team golfer.

"I love the relationship she has with Gary," Jessica said. "Everything Gary says about her is so on point. Everybody she meets she is so friendly (with) and (she) always has a smile."

She had one for Jessica at the Founders Cup and she certainly did again for her on that FaceTime call Sunday.

"She literally glows with positivity," Jessica said, "she's amazing."

Amy feels the same way.

"I'm a big fan of Jessica," Amy said. "She likes me, and she's my best friend."

The three discussed the possibility of working together on an All-Star Kids Clinic by the Tesori Family Foundation at a future LPGA event.

But in the meantime, Michelle was happy to surprise Jessica via a FaceTime with Amy.

"It was absolutely incredible (watching them connect)," Michelle said. "It fills my heart with hope for people like Jessica in (my son's) life too."