Well-known golf instructor David Leadbetter was making the rounds on Thursday at the PGA Show in Orlando. LPGA.com caught up with the busy instructor to find out his thoughts on his stable of LPGA stars and their prospects for 2018.
He's bullish on many of them, as he should be.
"She's super talented, she's very determined, very focused and if she stays healthy and can putt consistently this year, I think she could have a really good year," said Leadbetter about his longtime student Michelle Wie, who he first started working with when she was 13. "It is not beyond the possibility that her best golf is still ahead of her."
He's worked with Jodi Ewart Shadoff for about three years.
"She's one of the premier ball-strikers out there (LPGA)," said Leadbetter. "I think she is in the top 10 percent on tour and it wouldn't surprise me to see her win once or twice this year. She's that good of a player."
Then, there is Danielle Kang, who burst onto the scene last year with her KPMG Women's PGA Championship victory and the moxie she displayed at the Solheim Cup.
"Her goal is be #1 (in the world) and she is feisty," said Leadbetter about Kang. "She has guts and she is a real competitor. She loves being in the heat of the battle. She is getting better and better technically. As long as she is physically strong enough, she'll have a big year. She's on the move."
Leadbetter says Wie spent more time practicing and playing during the off season than she has before. In years past, she didn't bring her clubs back to Hawaii during her time off. Not the case this year.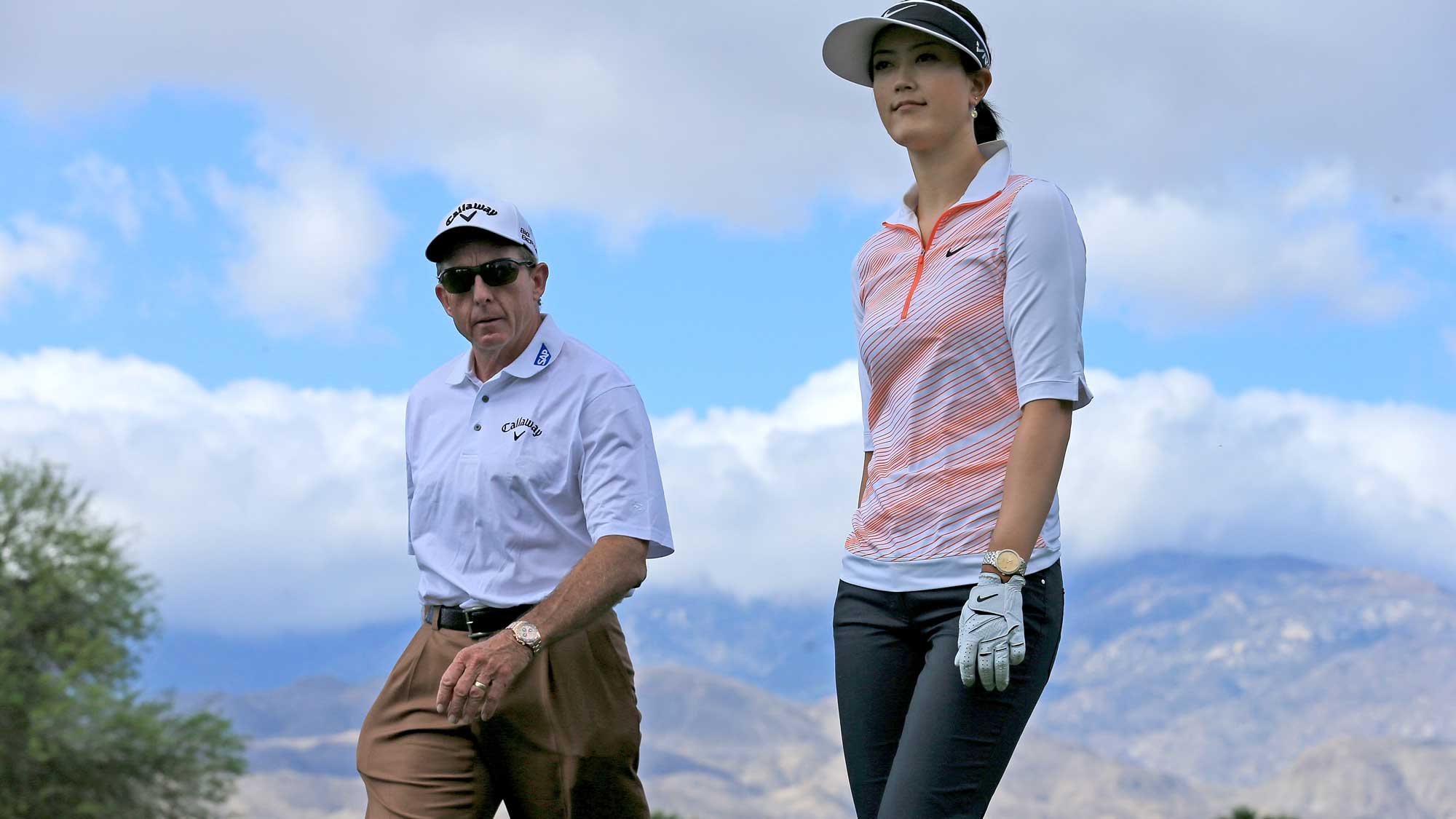 "I saw her ten days ago and she's been practicing a lot this off season," said Leadbetter. "She's looking forward to a really good year. She's hitting the ball well. For her, it is all about staying healthy. We worked on a couple things as we always do with Michelle. She's my perpetual tinkerer. All signs are good."

The coach-pupil duo worked most recently on easing the tension of Wie's swing. Leadbetter compared their work to Tiger dialing back the ferocity of his swing.

"She has this snapper left leg fairly aggressively so were working on softening the knee," explained Leadbetter. "We have to work on technique that doesn't stress her body out. When she's snapping the knee, it is like Tiger to some extent. She puts a lot of stress on her ankles, knee, back and hip so were working on softening things. It's been pretty good so we will see."

Leadbetter and Wie were talking recently about the fact that he's worked with her for over half her life. He was reminiscing about the time she played against the men in the Hawaiian Open. That was 14 years ago.

"I love her, she's like a daughter to me. I just want to see her happy and she's happy right now. She loves what she's doing. I think she could have a really good year and that is great for the LPGA. I don't care what anyone says about all the other great players out there, when she plays well she moves the needle. She's a magnet for the crowds. She's just striving to be the best she can be."

Let's hope the injury bug doesn't bite in 2018 like it did in 2017. There was the WD at the U.S. Women's Open because of her neck and the surgery to remove her appendix.

All signs indicate that a healthy Wie could be a very dangerous sign for her competitors and a blessing for LPGA fans around the world.